Do you go shopping on Black Friday? Or even on Thanksgiving?
(I hate the fact stores are open on Thanksgiving now but that's for a different rant)

I have to say I belong to a family of pros when it comes to BF shopping. We go every year, we always have a plan, and we are always, always successful (a.k.a. spend way too much money).
Since I have been Black Friday shopping almost every year since I could shop, I have a few do's and don'ts that I would like to share with you for a hassle free, fun, well spent Black Friday.

DO:
Have a plan. We specify what store, what time we are going (tentatively) and what we are buying there.
Go with friends/family. Duh, if you go with the people you love, it's much more fun!
Stop and eat a good breakfast. We stop at the Egg Factory every year after a couple stops to re-fuel.
Have any coupons or flyers ready to go at check out so you don't hold up the line.
Avoid the drama. Line too long? Someone throwing a fit? Walk away. The deal is not worth it.
Spread Christmas Cheer!!! Be extra polite and friendly while you are out on this stressful day. It truly is the kick off of the holidays, so remember to say THANK YOU, Merry Christmas or Happy Holidays!
DON'T:
Go out wearing your pajamas. Really people, why?
Expect there to not be a line, or for stores not to run out of popular items.
Bring young children. If you're out shopping at 4 AM your child should be in bed, not with you.
Bring a huge purse or wear uncomfortable shoes. It's a marathon, not a sprint, so be prepared.
My typical Black Friday consists of:
Home Depot for $.99 Poinsettias, fresh garlands and lights
Fred Meyer for buy one get one free socks
Breakfast at Egg Factory
Target for wrapping paper and misc. sale items
The Mall - J.C. Penny/ Kohls/ American Eagle/ misc.
A well deserved nap
So make a plan, be cheerful, and make a day of it with your girls!
PS - don't forget to tune in tomorrow for the first week of
#hashtaghumpday
hosted by myself and
Lauren
. No rules, just add #hashtags and join in the fun!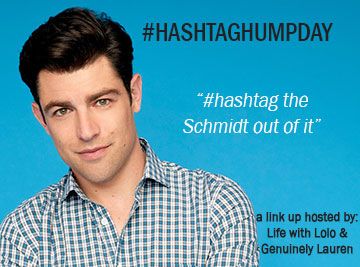 What are your plans for Black Friday? Any tips or stores you recommend? Please let me know!
TTFN,