Can you believe we're ten weeks into this little baby link up of ours?
I've been having so much fun with our little version of confessions with
Lauren @ Genuinely Lauren
. That's a fact. And since I know you like fun (duh) you should probably link up too. Ain't no party like a #hashtag party!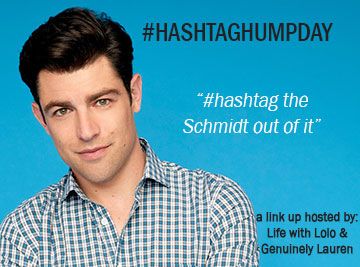 First a little business. Here's the scoop:
Each Wednesday create a post about what's going on in your life and #hashtag each item or story. See an example HERE. Be as creative as you want!
Grab the button and include it in your post

Link up so we can all #creep on you and find out what's new/funny/awesome /shitty in your life.
Comment on at least one other blogger's post from the link up (someone you don't already know!) if there even is anyone who links up…

Share on all your social sites with #hashtaghumpday
Have fun! #hashtagtheshitoutofeverything #whocaresifitsarealhashtag
Kapeesh?
Monday night I decided to work out at home as part of my "get back on the wagon" attempt.
I did this workout (warm up):
Followed by this:
Needless to say I bit off a little more than I could chew on my first week back working out #dontdoit #toomuchtoofast #imtoooutofshapeforthisshit
Also, I finally got my FitBit Flex up and running this weekend. So far I'm loving it and I barely notice it on my wrist at all. HOWEVER, Monday, when I did the above workout (which had me pretty much throwing up) my FitBit didn't log it at all as "very active minutes." What the hell are "very active minutes" if they aren't the times your heart is beating out of your chest and there's sweat dripping down your ass crack? Those are pretty damn active if you ask me #wtf #fitbit #countthatshit
I'm really torn on an upcoming friend's wedding. It's in Alaska. She's one of my good friends from college but we haven't been in touch a lot recently. She did specifically call to invite me though which I was really touched by. I WANT to go to Alaska so bad because it's ALASKA and because I want to be there for her to tie the knot. But then there's a huuuuugggee cost involved. Because if I'm going to do it, I'm going to do it right with some boat tours and fun stuff. You can't go to Alaska and not go see any of it other than a wedding right? Considering the tickets are $500 alone that makes things a little tricky. Plus it's two weeks before the Fair - so the busiest time of my whole year at work. Still no clue what to do on this one #helpmeimpoor #iwantanalaskanadventure
We're changing our hours at work. Since most of us don't take an hour lunch and are logging overtime because of it, there letting us leave a half hour earlier. So we to leave at 4:30 now #hellyeah
The only time I left the house this past weekend was to go to the dog park, the gym, or the grocery store and I'm not one bit sad about it other than the fact that I only got two days of that. It was so nice not having to be anywhere or even wear makeup #icouldbeahermit #lazydaysarethebest
And that's about all I have for this week. I need a juicier life...
TTFN,