Well hello lovelies! Welcome to #hashtaghumpday where the best of the best come to confess and hashtag the shiz out of it along the way. Makes sure to stop by and give love to my amazing
co-host
and partner in blog-crime,
Lauren @ Genuinely Lauren
. She's the #beesknees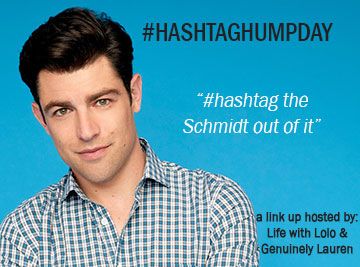 First a little business. Here's the scoop:
Each Wednesday create a post about what's going on in your life and #hashtag each item or story. See an example HERE. Be as creative as you want!
Grab the button and include it in your post

Link up so we can all #creep on you and find out what's new/funny/awesome /shitty in your life.
Comment on at least one other blogger's post from the link up (someone you don't already know!) if there even is anyone who links up…

Share on all your social sites with #hashtaghumpday
Have fun! #hashtagtheshitoutofeverything #whocaresifitsarealhashtag
Kapeesh?
Ok, let's start with the rant that gave this post it's sweet title.
My city league volleyball team played our arch nemeses in last week's game. Who are these evil beings you might ask? Well we like to call them the Tits and Ass Team. They've been around for a while, we've played them before. Some of their players switch out a bit, but the core group is always the same. Imagine body builder Barbie, full hair and make up, the tiniest shorts possible and (although I still have no clue where they find them) a push up sports bra. Seriously, they have cleav where cleav should never be - at a city league game. We could have a nip slip at any moment #titsout #shortshorts #SLUTS
Ok, I get it, if you got it, flaunt it, right? I'm all about that. But shorts that ride up to your hooo-ha and tanks cut so low I wouldn't even wear them to a club? Pushing it ladies. It doesn't help with the fake eyelashes and hair extensions either. In a junior high gym. Hot stuff #yougotdoneupforthis #whodoyouthinkyouare
Top it all off with the giggles and "like" every other word. It's like a volleyball version of Clueless and not in a good way. And to make it worse, they usually beat us (they did last week). Personally I think it's our own hate that does us in. We're too busy hating them to be good at volleyball. But man are we good at hating #atleastweregoodatsomething #doilookjudgeytoyou #yesimjustjealous
So really I'm just the bitch that is jealous of their smoking bodies, cute workout clothes, perfect ponies and nice make up. I still think the volleyball court is not the place to flaunt it though. So I may have secretly let one of these slip #oopsdididothat?



Next time we're beating their perky asses!!! #yoursogoingdown
What are you confessing? Link up and throw a #hasthag on it.