Oh, hi there.

Sorry I have neglected this little space of mine for a while. I've been a little overwhelmed lately and I'm blaming it all on work and the softball tournament I had this weekend. Spending that two days at the ball field is way less productive than cooking, cleaning and blog prep like a usual weekend. But it was WAY more fun! #theremayhavebeenbeer
So before we start the dishing, let's go say hello to my ever amazing co-host
Lauren
. Did you see how cute she was yesterday in that
Maxi
? I mean just stop it! #icanteven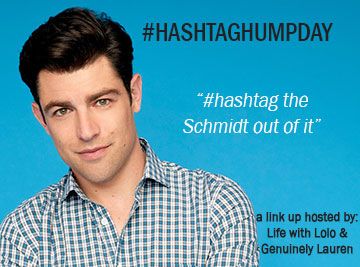 First a little business. Here's the scoop:
Each Wednesday create a post about what's going on in your life and #hashtag each item or story. See an example HERE. Be as creative as you want!
Grab the button and include it in your post

Link up so we can all #creep on you and find out what's new/funny/awesome /shitty in your life.
Comment on at least one other blogger's post from the link up (someone you don't already know!) if there even is anyone who links up…

Share on all your social sites with #hashtaghumpday
Have fun! #hashtagtheshitoutofeverything #whocaresifitsarealhashtag
Kapeesh?
Alright here's the truth - I left this till the last minute and I have no desire to stay up late writing it and finding funny gifs #thereisaidit #bloggerstruggle #thisisnotmyweek
This could be because of the stress, lack of blogging and general feeling of being overwhelmed, but this is probably the first year of my entire life I'm not that excited for my birthday. I mean yeah, I like
Treat yo' self Month
and all, but I'm not feeling a party or big to-do. It's too much work. #someoneplanmeasurpriseparty #getmeinthemood
My birthday is on a Monday #Fthat and the BF is out of town for my birthday, both adding to the above feeling #itsmypartyicancryifiwantto
Also, I'm officially headed for "late" twenties. 27 feels old man, I know it's not, but it feels it to me. Wasn't I just 16? #takemeback #27isthenew22
Gunner just tooted. He's lying on the bed next to me and he just audibly farted #thisismylife #dogfarts
Odds are I'm going to do this whiny #confessions post and turn around and be bouncing off the ceiling with excitement within 24 hours. Don't hate me #imaybebipolar #moodswingsarereal #noimnotpregnant
I think the best birthay's are made up of gestures, not gifts. Like a little note, flowers or chocolates sent to work, or taking care of things for the birthday-er #hinthintifyouarereading #idontneedmaterialthings #justkiddingineedthosetoo
And it's late, and I'm tired and I'm going to bed #goodnight
TTFN,