Ok, it's T-minus one week till Fair. Crazily enough I kind of feel like I can breathe again this week. Although I know that will be knocked out of me come next Monday.

And even though I feel calmer, it doesn't mean my life has slowed down enough to blog on the regular...yet.

So thank you so much for showing up for my one post of the week. The day Lauren and I link up to share what's going on and hashtag the Schmidt out of it! Go say hi to her would ya?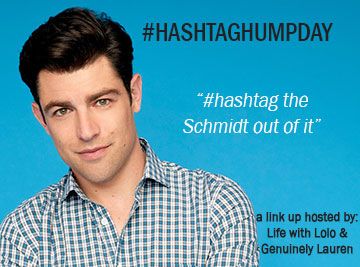 First a little business. Here's the scoop:
Each Wednesday create a post about what's going on in your life and #hashtag each item or story. See an example HERE. Be as creative as you want!
Grab the button and include it in your post

Link up so we can all #creep on you and find out what's new/funny/awesome /shitty in your life.
Comment on at least one other blogger's post from the link up (someone you don't already know!) if there even is anyone who links up…

Share on all your social sites with #hashtaghumpday
Have fun! #hashtagtheshitoutofeverything #whocaresifitsarealhashtag
Kapeesh?

So I had big plans for my Blogiversary - it's this Sunday! Two years flies by! But low and behold it has to fall right in the middle of all this craziness. It could happen, and there could be an AWESOME giveaway, but that all remains to be seen #fingerscrossed #youknowiliketothrowaparty #evenjustonline



The roommate has moved in. Life is slowly crawling into normalcy. All I know is my house is the cleanest it has ever been due to the deep clean it saw prior to and while he moved in #illtakeit #letshopeicanmaintainit



Speaking of the roommate, he's way different than the guys I've lived with in the past. For starters he has a matching bedroom set - hell I don't even have that - with a fancy headboard, designer linens and lamps that look straight from Pottery Barn. He even has stuff for the bathroom - a nice clock, matching towels, and his, GET THIS, fancy blow dryer! That's right this guy is more organized and feminine than I am - especially for a straight guy #reallywhoisthisguy #metrotastic #idontknowifilikeitornot



I had to do a TV interview for a local daytime talk show here yesterday #basicallyimfamous. I wasn't nervous till they sat me up there with the hosts and the hot lights shone in my I'm sure shiny, pudgy face. Doing the interview was not that bad - but watching it Friday when it airs? I'll probably throw up #ihatewatchingmyself #thecameraadds100lbs #pleasedontwatch



Two weeks from now I will finally be in the clear. Fair will be over. I can hardly even imagine it and yet I cannot freaking wait. Can we fast forward please #letsgetherdone #almostthere #marathonnotasprint



Odds are next week I won't be here for #hashtaghumpday. My apologies in advance. I will get it up so all you lovely ladies can link up and Lauren can run the show.

In the meantime, I will be missing you!

TTFN,