Fall has finally hit Idaho, that's about the only good news I have this week. That and my very first "real blogger" planner has shipped from A Beautiful Mess. I can't wait to have it in my hot little hands on Friday!
Oh you're right - it's humpday too and that's always good news!!! Pop over and say hi to my co-host Lauren and her three pups. Then make sure to link up with us and Alanna for confessions! Two birds. One stone. #nailedit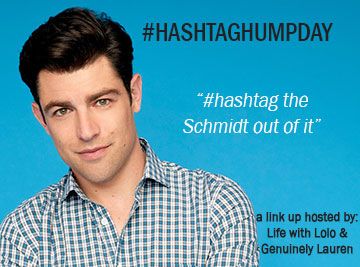 First a little business. Here's the scoop:
Each Wednesday create a post about what's going on in your life and #hashtag each item or story. See an example HERE. Be as creative as you want!
Grab the button and include it in your post

Link up so we can all #creep on you and find out what's new/funny/awesome /shitty in your life.
Comment on at least one other blogger's post from the link up (someone you don't already know!) if there even is anyone who links up…

Share on all your social sites with #hashtaghumpday
Have fun! #hashtagtheshitoutofeverything #whocaresifitsarealhashtag
Kapeesh?
This week we're talking about guilt. I have to confess my sins right?
I'm totally guilty of...
Scrolling through my Twitter feed and only reading things my blog "friends" have posted and nothing else #theimportantpeople
Throwing away plastic silverware at work even though we reuse them #thatswhyitplasticdamnit #idoenoughdishesathome
Adding "that's what she said" to the end of far too many sentences #twss #itsalwaysfunny
Getting angry when someone doesn't use their turn signal, while forgetting to use my own #hypocritstatus
Deciding not to leave a comment if a blog post already has 30 plus comments #theyhaveenoughloveforoneday
Not washing
my hair everyday so I can sleep longer #dirtyhairdontcare #shamelessplug
Letting Gunner get after other people's dogs at the park when they are being asshole dogs and their owners aren't doing anything about it #theyneedtolearntheirlesson
Keeping all the things rolling around in my car and trunk #messycarpersonandihateit
Forgetting time and time again to remind my roommate to keep things off the counter or to move them myself and then the dog eats it #sorryaboutthosemuffins
Brushing my teeth when I get up instead of after breakfast #becausecoffeekeepsgoing
Cracking myself up with my own thoughts and laughing out loud #yourereallynotthatfunnylaura
Judging a new blog the second I open the page and whether I'm going to follow or read it #haveagooddesignpeople
Changing the radio station when commercials come on even though it's my job to place commercials #ihopeotherpeoplelisten
Procrastinating phone calls because asking for money is the pits #ohshitthatshalfmyjob
Letting weeds grow humongous in my flower beds most of the year #itwastoohotforweeding #andimlazyasshit
Taking advantage of activities with my parents because I know they'll pay #helpmeimpoor
Telling myself I'm going to eat "Whole30-ish" during the week and then eating 5 pumpkin spice blondies a day #ohlookdessert!
Going to the bathroom a million times a day at work #allthewaterandallthestepsonmyfitbit
Not having a good idea for this post but coming up with far too many things I'm guilty of #couldhavebeenworse
What are you confessing and #-ing this week?