It's the most wonderful time of the year! Oh wait does that come after the turkey? I get confused when Christmastime actually starts these days.
But really, this IS the most wonderful time of the year. Because turkey. And potatoes. And stuffing. And gravy. And pie....
Also, NEXT WEEK is the ONE YEAR LINK-AVERSARY PARTY for #hashtaghumpday! Technically today is the day, but I figured a lot of the lovely faces might be gone for the holiday so we are pushing it to next week. Be there or be square!
Don't forget you have a plethora of link ups to confess your face off to every Wednesday. #Hashtaghumpday with
Lauren
and I of course,
Alanna for confessions
as well as
Plucky
in Love, and then
Kathy
and
Nadine
! So much humpity-hump-day love!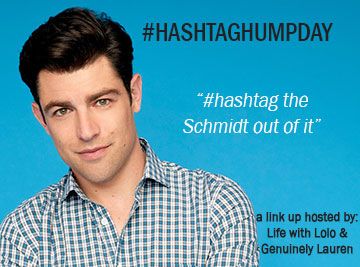 First a little business. Here's the scoop:
Each Wednesday create a post about what's going on in your life and #hashtag each item or story. See an example HERE. Be as creative as you want!
Grab the button and include it in your post

Link up so we can all #creep on you and find out what's new/funny/awesome /shitty in your life.
Comment on at least one other blogger's post from the link up (someone you don't already know!) if there even is anyone who links up…

Share on all your social sites with #hashtaghumpday
Have fun! #hashtagtheshitoutofeverything #whocaresifitsarealhashtag
Kapeesh?
I'm going to keep it fairly short and sweet this week. Partly because of the holiday and partly I don't have a whole lot of juiciness to share.
I've committed to making homemade rolls for Thanksgiving and now I'm kind of regretting it. I can make cookies all day long but things you have to knead and rise and all the jazz? It could get ugly. And floury. I'll be drinking while I do this no doubt #bloodymariesforbaking #fingerscrossedformefriends
The BF
we've decided to start alternating Thanksgivings instead of going to both of our families' dinners this year. I know it makes sense and it's fair but it still makes me sad. It's hard since it's the holiday both our mothers host. I just feel like I
need
to be there since it's at our house (meaning my parents' house). I still plan to drop by and say hi regardless #becausemyfamilyisthebest #andhasbetterfood
I leave for LAS VEGAS on Sunday. It still hasn't sunk in. I've had trouble being excited for it this year (I know you are all slapping me for this across the interwebs) but I'm hoping once Thanksgiving is over I'll be ready. That or once I'm on the plane. Or once I've started drinking... #whatahappensinvegsas #excitementpending
And with that I will leave you to your turkey prep and holiday travel. Stay safe with the winter weather and eat more than you should, it's the one day you can without guilt! #allthepienoregrets
Link up and join the fun. Cheers!