It's here. My final day with the county Fair. It's been a bitter sweet two weeks and I think I'm still in disbelief that I really won't be driving the 25 hellishly long miles out here tomorrow.
Leaving a job is tough, but the excitement for my new one is slightly over-shadowing the pain of the goodbyes today. It's not goodbye forever right? #letsnotthinkaboutthat
Before we get into it, let me remind you you have a plethora of link ups to confess your face off to every Wednesday. #Hashtaghumpday with my partner in crime
Lauren
and I of course,
Alanna for confessions
as well as
Plucky
in Love, and then
Kathy
and
Nadine
! So much humpity-hump-day love!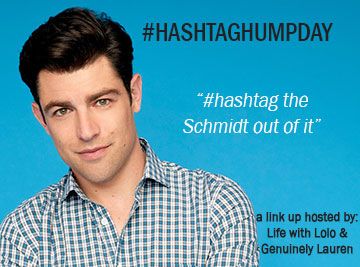 First a little business. Here's the scoop:
Each Wednesday create a post about what's going on in your life and #hashtag each item or story. See an example HERE. Be as creative as you want!
Grab the button and include it in your post

Link up so we can all #creep on you and find out what's new/funny/awesome /shitty in your life.
Comment on at least one other blogger's post from the link up (someone you don't already know!) if there even is anyone who links up…

Share on all your social sites with #hashtaghumpday
Have fun! #hashtagtheshitoutofeverything #whocaresifitsarealhashtag
Kapeesh?
Alrighty then, here we go...
Cleaning my desk out this week reminded me of what a hoarder I am. Not hoarding really, but just being a "stuff" person in general. I have LOTS of stuff. Most of it's crap, knick-knacks, personal tacks I use on my bulletin board, three kinds of lotions and chapsticks, all sorts of stationary, photos, a high-heel tape dispenser, business card holder and on and on I could go. It always seems to accumulate wherever I'm at #holdonwhileicrawloutofmyoffice #somuchstuff #someonehastocarryitdownstairsbecauseimacripple
I did most of the clearing out of my office while no one else was here, to avoid the pain #itsnothappeningifnooneelsesees #ifatreefallsinthewoods
As much as I tried to knock out a bunch of projects before leaving I left a few that I hate doing. I know that makes me a terrible person. At least it's not the hard stuff #someoneelsesproblemnow
We are having a farewell lunch for me today, and it will for sure not be Whole30 #eatingmyfeelings #itsthelastdaysowhynot
My boss keeps saying they're never going to find someone as great as me. It makes me feel awful but amazing at the same time. Sometimes you never really think you are that good at your job or reflect back on what you have done until you leave it. I guess I was pretty dynamite #killedit #bestever #setthebarhigh
There are definitely some people I'm not going to miss #imlookingatyouneedysponsors
Mostly there is just this weird feeling in my gut. It's a cross of butterflies of excitement and the gut-wrenching hurt of the goodbyes this afternoon. I may have to veer off Whole30 again tonight for a stiff drink when this is all over #istillcantbelieveit #offonmynextadventure #drinkswillbeneccessary
What are you confessing this week? Link up!