Happy Wednesday! We're half way through the week and more than half way through February. Can I get an Amen on that? I'm ready for spring and summer!
I really shouldn't complain, it's been in the 60s in Idaho which is unheard of this time of year. So really I guess that's spring-ish anyways. Still I could go up a few ticks on the thermometer and wouldn't mind some flowers popping up!
Before we get into it, let me remind you you have a plethora of link ups to confess your face off to every Wednesday. #Hashtaghumpday with my partner in crime
Lauren
and I of course,
Alanna for confessions
as well as
Plucky
in Love, and then
Kathy
and
Nadine
! So much humpity-hump-day love!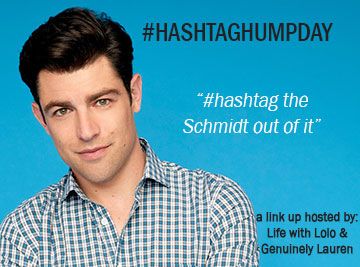 First a little business. Here's the scoop:
Each Wednesday create a post about what's going on in your life and #hashtag each item or story. See an example HERE. Be as creative as you want!
Grab the button and include it in your post

Link up so we can all #creep on you and find out what's new/funny/awesome /shitty in your life.
Comment on at least one other blogger's post from the link up (someone you don't already know!) if there even is anyone who links up…

Share on all your social sites with #hashtaghumpday
Have fun! #hashtagtheshitoutofeverything #whocaresifitsarealhashtag
Kapeesh?

So for starters be forewarned that I need to gush a little bit...

I am OVER THE MOON EXCITED about my new job. There I said it. It's basically the coolest job in the world other than snuggling with puppies all day. I know there are lots of people who make their living doing nothing but social media, but I didn't really think it was a reality for me. Now I will get paid to spread and share the messages of a product line millions of people love, over social media, for a living #someonepinchme



I still don't know if it's Kosher to share here where I'm working, but if you want to know, comment and I'll shoot you an email. What you should know though is that the perks are killer. Now I'm not talking benefits, those are pretty good too, I'm talking other things. For example $55 in product for your birthday every year, half off everything in their high-end, onsite cafeteria and coffee shops, and even free unlimited access to an onsite gym that has classes from yoga to crossfit #ifonlyihadaleg #idbekillingitatthegymalready #somuchfreestuff!



The other thing I'm overly excited about is the company's stance on giving back. Every month there is a service project (or two) you can be a part of, if you volunteer on your own time they will pay out your hours to the charity of your choice, and they offer pay-it-forward programs ($10 each to thousands of employees) each year to spread in their communities #ineedtostepupmyhelpinggame #andnowitspartofmyjob #givingbackisthebest



I've been downloaded now from my team leader and I have to admit it left my head spinning. We are basically re-launching and re-branding on all their platforms over the next year, which is overwhelming. Still I was so excited and happy for this opportunity I was nearly in tears as I drove home last night #happytearsarethebest #mightbeoverwhelmedtearstoo



The one downside of course is that my once open-ish days at my old job for blogging are long gone, so posts may be fewer and farther between around here. Maybe this will be the push I needed to actually create a blogging calendar and schedule #dontholdyourbreath #crazierthingshavehappened



And I'd like to say I'm sorry for this brag-assy post but #sorrynotsorry



Happy Humpday all! Link up why don't ya?