Is it too late in the season to wear bright colors? I think not. Not ever.


Today's prompt for the
Creative Closet
was color blocking. It was something I have never done before - usually I'm the type to do a pop of color with neutrals. However, that is what the
Creative Closet
is all about, trying something you wouldn't have before, right out of your own closet.
Senior picture anyone? Pretty sure I have one that looks exactly like this...
I'll be honest, I mulled over this prompt for weeks. I Pinterested it. I Googled it. I went through options in my head over and over. I tried on 3 different combinations. Finally I arrived at this.


I bought these bright green pants for Saint Patrick's Day. They were perfect with a flowy black top and black boots, but I haven't really worn them since.


They were the perfect thing for color blocking! I added a solid blue top and ta-da, color block perfection.


Plus it was the perfect outfit to wear these shoes with. I mean LOOK at these wedges.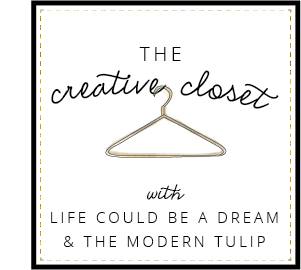 What's your dose of color on this early fall Tuesday? Are you a fan of color blocking?
Thanks as always to
Jana
and
Maegan
for the link up! Join in for the Creative Closet every Tuesday. Next week I will be co-hosing for Maxi Moment!!!
TTFN,