Happy #hashtaghumpday and happiest of holidays to everyone! I cannot believe Christmas Eve is a week away. It still hasn't hit me that it's Christmas already. I need Buddy the Elf to come slap some Christmas spirit into me!
But alas, it's #hashtaghumpday and what better way to celebrate the season than linking up with me and
Lauren
?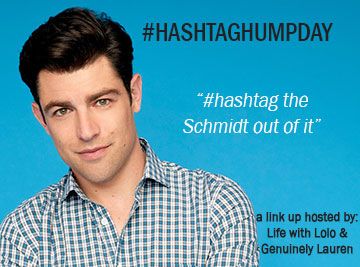 First a little business. Here's the scoop:
Each Wednesday create a post about what's going on in your life and #hashtag each item or story. See an example HERE. Be as creative as you want!
Grab the button and include it in your post

Link up so we can all #creep on you and find out what's new/funny/awesome /shitty in your life.

Comment on at least one other blogger's post from the link up (someone you don't already know!) if there even is anyone who links up…

Share on all your social sites with #hashtaghumpday
Have fun! #hashtagtheshitoutofeverything #whocaresifitsarealhashtag
Kapeesh?
Ok great. Here goes:
First off, I'd like to apologize for last week's link up. I know it was minimal, and I apologize. I also didn't get to read anyone's linked up posts or promote the link up appropriately #epicfail #sosorry. Aaaannnnnddd I'm not going to lie this week's isn't much better, but I promise I'll get back to nailing it soon!
I finally got my tree up. It was quite an ordeal. I had been begging the BF to go get one since the weekend after Thanksgiving and he kept putting it off and putting it off. I told him as soon as I got back from Vegas we were going. Nope, he still put it off till about 6 PM on Sunday. Guess what? Not many stands are open on Sunday night, which resulted in us driving all over Kingdom Come looking for one #frustrated #Itoldyouso #youcantprocrastinatechristmas
I also thought we were going to down size a bit this year. Nope. We shoved yet another NINE footer through the front door and set 'er up. Not going to lie, I like the size now that it's up #thatswhatshesaid #twss (thanks
Kasey
!). Still I could have saved $20 and had it a foot or two shorter... #glorious #9foot #LEDlights #christmastree
It's Ted's first Christmas. I'm a little freaked out about leaving him alone with the tree all day. #devilcat #treeclimber #lovesshinythings
See Mr. Prowler?
Since I was gone for a WHOLE WEEK I feel sooooo behind. I still have so much wrapping to do, friends' gifts to put together and stuff to get ready for our ugly sweater party on Friday #somuchtodo #solittletime
I did however get most of my Christmas cards addressed and in the mail #winning. I have a few extras if any bloggy friends would like one! Just email me your address #illsendyouthelove
Good news is that I'm taking Friday off to regroup/get shit done #meday #nails #doggrooming #cleaning #christmasspiriting
So is it Friday yet? What's everyone's thoughts on having the link up Christmas Eve and New Year's Eve??? Any takers or should we give it a holiday break?
Hope you all have a festive holiday humpday!!! Link up and spread the love!
TTFN,