I know I'm not exactly re-inventing the wheel here, but considering everyone makes their Bloodies a little bit differently I figured it was fair game.


AND since I went to this amazing bar called Press in Spokane that had a $5 build your own Bloody Mary Bar, how could I resist not sharing what's in yours truely's perfect red dream?
Here's is what is in MY perfect Bloody Mary:
1.5 ounces vodka (I prefer bacon infused if you can find it)
1/2 TBS Worcestershire
Generous sprinkle of Celery Salt
Generous sprinkle of Garlic Powder
Generous sprinkle of Onion Powder
Generous sprinkle of Black Pepper (are you sick of sprinkles yet?)
4-5 drops of green Tobasco
Several strips of Bacon
Pickled Asparagus
Pickled Green Beans
A Green Olive
A Slice of Lime, squeezed into glass
Skewr of cheese, meat and veggies (seen above)
Spicy Bloody Mary "mix".
Adorn glass with fixings, then stir all liquids/sprinkles together till thoroughly mixed.
If possible, enjoy with Breakfast Pizza - you can see it in the background.
That bad boy had sausage gravy as sauce, hash browns, sausage, scrambled eggs and cheese as toppings and then was drizzled with more gravy. TO. DIE. FOR.
Don't forget to link up with
Kristin @ Hopelessly Ever After
every week for Thursty Thursday and check out her co-host this week
Amy @ Crazy Wise Woman
!!!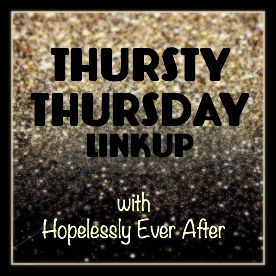 TGIT and almost Friday!

TTFN,