So it's #HASHTAGHUMPDAY again!!!! AAAANDDD it's not the best because my laptop died and I couldn't find the cord. So I give you...the phone written post #donthate #lookimearly #oops
Don't forget to go give my co-host
Lauren
some love!!!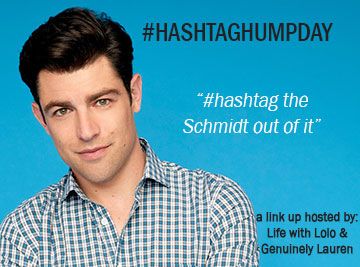 First a little business. Here's the scoop:
Each Wednesday create a post about what's going on in your life and #hashtag each item or story. See an example HERE. Be as creative as you want!
Grab the button and include it in your post

Link up so we can all #creep on you and find out what's new/funny/awesome /shitty in your life.
Comment on at least one other blogger's post from the link up (someone you don't already know!) if there even is anyone who links up…

Share on all your social sites with #hashtaghumpday
Have fun! #hashtagtheshitoutofeverything #whocaresifitsarealhashtag
Kapeesh?
|| So I left on my little weekend road trip in the middle of a winter storm warning. I wouldn't recommend it #ialmostdied #scaryassroads #fog. Oh and to prove my point there was an 84 car pile up on that stretch less than 24 hours after I drove it. Did you see that picture that's trending of the
guy pinned between two semis
? Yeah that stretch of road #dontworryhesok
|| All I did this weekend was eat and eat and drink some more with my girlfriends #allthecheesesauce #pizzaandbeer #burgersandfries
|| The weekend also included almost 3 seasons of "friends" on Netflix #idroveallthewayforthat #howyoudoin? #PIVOT!
|| And I'm struggling to think of more stuff, and since I'm doing this on my phone, well, I'm gonna call it on account of circumstances #notafanofadversity

I will add links and photos I promise!! And more in general... ok maybe not that much...
TTFN,