Hey ladies! It's our favorite day of the week again. Time to link up with me and the amazing
Lauren @ Genuinely Lauren
for some #hashtagtastic confessions.
This week, in honor of Valentine's Day on Saturday, I thought I'd talk all about things I love - but am typically too embarrassed to admit.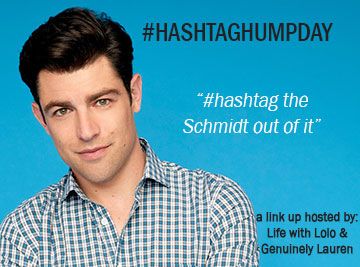 First a little business. Here's the scoop:
Each Wednesday create a post about what's going on in your life and #hashtag each item or story. See an example HERE. Be as creative as you want!
Grab the button and include it in your post

Link up so we can all #creep on you and find out what's new/funny/awesome /shitty in your life.
Comment on at least one other blogger's post from the link up (someone you don't already know!) if there even is anyone who links up…

Share on all your social sites with #hashtaghumpday
Have fun! #hashtagtheshitoutofeverything #whocaresifitsarealhashtag
Kapeesh?
Alright, time to share the love.
|| I LOVE straws. Drinking from straws. Putting them in everything. Sucking on them #twss #thatswhatshesaid. I don't like to have a beverage (other than beer which will foam up, I've tried) without a straw. I've heard sucking on a straw can give you more wrinkles #sowhat #Iliketosuck
|| I LOVE wedding shows. Ok, I know this is nothing new but they are just my jam. I cannot get enough
Say Yes to the Dress
,
I Found a Gown
,
David Tutera
, you name it. If it involves weddings, I'm sold #notevenengaged
|| I LOVE online shopping. It makes this budget/spending freeze so dang hard. Even though I took my credit cards out of my purse, websites still remember them...so it's not cheating right? #shopaholic #alltheshoes #I needhelp
|| I LOVE holding hands with my dog while we sleep. Too creepy? Sorry but when he's there next to me, and the paw is close, I hold it. End of story. And it's precious #myprecious #crazydogmom
|| I LOVE showering in semi-darkness. It's just much more relaxing #andsexy
|| I LOVE my new FitBit flex even though I can't wear it while I play volleyball so I have to stuff it in my sports bra. It still works and counts all the steps, but shoving it in there before the game is a little awkward #supersweaty #dontlook #havetocountdemsteps
What are you confessing/loving this week? Join in, link up and #hashtagit
TTFN,