Happy April Fools' Day folks! Are you fooling around today? #seehwhatIdidthere

I'm not that good of a prankster so I'll just stick to #hashtaghumpday confessions. The usual.

Before we start the dishing, let's go say hello to my ever amazing co-host Lauren. She just got a new PUPPY!!! #superjealous #exceptforpottytraining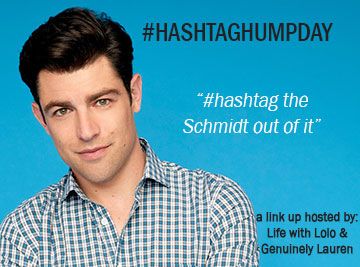 First a little business. Here's the scoop:
Each Wednesday create a post about what's going on in your life and #hashtag each item or story. See an example HERE. Be as creative as you want!
Grab the button and include it in your post

Link up so we can all #creep on you and find out what's new/funny/awesome /shitty in your life.
Comment on at least one other blogger's post from the link up (someone you don't already know!) if there even is anyone who links up…

Share on all your social sites with #hashtaghumpday
Have fun! #hashtagtheshitoutofeverything #whocaresifitsarealhashtag
Kapeesh?
Ok, brace yourself for another really long post like
yesterday
, I got a lot to #confess
HAHAHA, did I get you?
No long post. I thought about not posting at all, you know, as a joke--but I can't miss my one chance a week to #hashtagtheshitoutofapost
I'll be brief.
The BF doesn't like the smell of coconut. So when he's out of town for work I bust out my coconut lotion and apply it like it's going out of style #givemesummersmells #imighthaveaproblem
Also when he's not home I use the bathroom with the door open, because I can #andthedogkeepsmecompany
This last week I left dirty dishes in the sink for more than 5 or so days because it was #birthdayweekend and you don't clean on your birthday. They stunk real bad when I took care of them last night #imdisgusting #howcanicallmyselfanadult
The BF got me a Kindle Voyage for my birthday and even though I have yet to read anything on it, I'm kind of obsessed. Add me on
Goodreads
ladies and send me recommendations #shamelessplug #makemeareader #icandothis #canwestartabookclub?
And that's all I got for this humpity-hump day!
TTFN,