Happy humpday amigas. It's almost Derby weekend and almost Cinco de Mayo! Are you celebrating? We might go camping - totally non-related haha.
Anyhooooo... onto your regularly programed messaging. #hashtaghumpday with me and my co-host
Lauren
! Go give her some love and say I sent ya, would ya?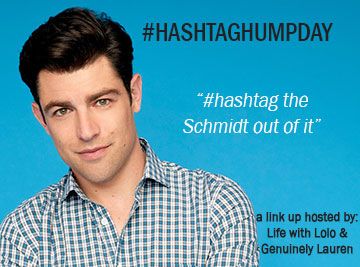 First a little business. Here's the scoop:
Each Wednesday create a post about what's going on in your life and #hashtag each item or story. See an example HERE. Be as creative as you want!
Grab the button and include it in your post

Link up so we can all #creep on you and find out what's new/funny/awesome /shitty in your life.
Comment on at least one other blogger's post from the link up (someone you don't already know!) if there even is anyone who links up…

Share on all your social sites with #hashtaghumpday
Have fun! #hashtagtheshitoutofeverything #whocaresifitsarealhashtag
Kapeesh?
I'm writing this in the midst of a heart attack, or a panic attack, or maybe an anxiety attack? I don't like calling people I don't know PERIOD. I just left two voice-mails (yeah I didn't even talk to actual people) and I'm hyperventilating. Because calling people to see if they will give your business money is the worst. So sponsorship sales isn't my thing #isuckatmyjob #ineedahug #andapaperbag
Because I have such strong anxiety over making those calls I have procrastinated them all the way till this month when I should have been making them in February. This creates even more anxiety and stress because I'm constantly worried I can't actually make it happen. It eats away at me 24/7 that I am failing at my job #imamess #basicallyimscrewed #lastminutealways
So I sit in my office almost in tears because I am so petrified to make calls and yet I can't get my job done without making them. Yes I can email, but it doesn't have the same appeal/first impression. I literally feel sick just thinking about it #pleasedontmakeme
The only good news is once I do pick up the phone and start talking I sound fine and professional. Basically I must black out completely with fear and somehow manage to be articulate #atleasttheresthat #everyonelovesmyphonevoice #concealdontfeel
Why can't everyone just want to sponsor the fair and call me begging to be here? I mean if they were to call here it's a whole different story. I'd sell the pants off them! #itcouldhappenright? Please just tell me everything will be ok #noreallyineedsomereassurance
In the mean time I'll be in my office with no windows trying not to kill myself and working on other more fun things (like marketing) instead of making any money for us to actually market ourselves with. Or I'll just take a nap #priorities #assbackwards #andidontcare
Any pointers for making solicitation calls??? Maybe a stiff drink before? #boozeisalwaystheanswer