My trusty side-kick for #hashtaghumpday,
Lauren
, is somewhere on a beach drinking margaritas without me.
As sad as that is, I am so very excited to introduce you to our lovely fill in host
Kasey
!

Take it away girl!!
Hiiiiiiiiii fellow humpday hashtaggers! I'm Kasey + I blog over at Kasey at the Bat!! I'm cohosting for Lauren because it was the second best option (after me going to Mexico in her place, obviously..) I usually blog about boozy things, baseball, ridiculous things that happen to me (spoiler alert, they're usually prettty hilarious), and I like to take pictures!
So make sure you go on over and say hi to
Kasey
. Trust me, she'll be your be your new favorite! PLUS she'll be around co-hosting next week as Lauren and I swap - I'll be on vacation and Kasey will then be my replacement!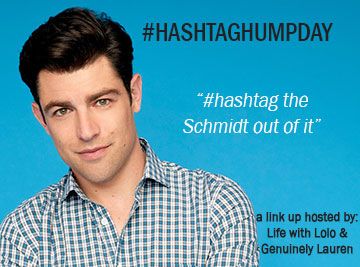 First a little business. Here's the scoop:
Each Wednesday create a post about what's going on in your life and #hashtag each item or story. See an example HERE. Be as creative as you want!
Grab the button and include it in your post

Link up so we can all #creep on you and find out what's new/funny/awesome /shitty in your life.
Comment on at least one other blogger's post from the link up (someone you don't already know!) if there even is anyone who links up…

Share on all your social sites with #hashtaghumpday
Have fun! #hashtagtheshitoutofeverything #whocaresifitsarealhashtag
Kapeesh?

Alright on to business.
I leave for vacation on Saturday. And I CAN'T FREAKING WAIT!!!! #notreallyaconfession #imjustexcited
I'm on my second breakfast sandwich of the day and I'm pretty sure it's going to make me sick, but they are so damn good I just keep eating #cantstopwontstop #fatgirlproblems #ittastesbetterthanskinnyfeels
Along with leaving on vacation on Saturday I took Friday off (to pack and get ready) and I have my dad's retirement party Thursday afternoon so I also will be leaving early that day. AND I may have scheduled a sponsor meeting at 3:30 today so that I can go straight home from there too... #basicallyivecheckedoutalready #strategicscheduling
As much as I am excited to jet off to Washington DC I'm pretty jealous of
Lauren down on the beach
sipping fruity drinks. I like historic, busy, tons of walking vacations, but the beach just sounds so much better #becauseimlazy #andiwantacabanaboy
Speaking of packed busy days of vacation, I stupidly offered to "plan" the trip for my family because my mom was stressing me out with all her questions about it. So I thought it would be less stress to just do it myself. While it actually was pretty fun to plan, the stress has now transferred to it not being fun when we actually get there, or my family not liking what I planned #theybetterlikeit #ihopewedontkilleachother
Oh and don't worry about me not being around next week #iknowyoureworried. I have some amazing gals lined up for you including
Alanna's
local tips on what to do and see in DC,
Kati's
vacation playlist and of course some
Kasey
thrown in for good measure #youllbeingoodcompany #showthemsomelove!
That's all for now - let's hope I can get it together and have a few more posts for you before I completely check out! #nogurantees
TTFN,