Well, let me dust of the screen a little...
There that's better. Whoops. Sorry about not showing up for a week. But I'm back now! AND I finally will have some vacation details to share this week, I promise!
I'd like to say I had a super busy week and weekend and thus the lack of blogging. But most of it was spent sitting on my ass, or in a pool #sorrynotsorry
Now that it's getting level 7 Hell hot here though, I might be indoors more actually blogging #weshallsee.
Make sure to go say hi to my co-host who has been doing phenomenal, make everyone jealous,
vacation
blogging recently,
Lauren
. BEACH. NOW please. Thanks.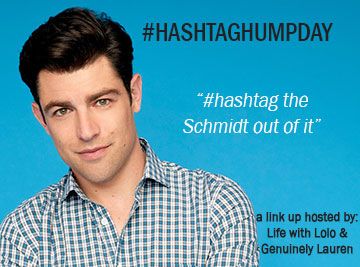 First a little business. Here's the scoop:
Each Wednesday create a post about what's going on in your life and #hashtag each item or story. See an example HERE. Be as creative as you want!
Grab the button and include it in your post

Link up so we can all #creep on you and find out what's new/funny/awesome /shitty in your life.
Comment on at least one other blogger's post from the link up (someone you don't already know!) if there even is anyone who links up…

Share on all your social sites with #hashtaghumpday
Have fun! #hashtagtheshitoutofeverything #whocaresifitsarealhashtag
Kapeesh?
Alrighty then. Let's get to it.
Online shopping comes to a quick halt when you get an email alert from your bank letting you know your checking account has dipped below $50 #FML #helpmeimpoor #ineedvacationclothes #thatswhatcreditcardsarefor
I have the shopping itch SO FREAKIN BAD because I'm leaving for New Orleans in a week and a day, A WEEK AND A DAY #holyshit, and I need cute bachelorette bash clothing and swim suits to wear. Nothing in my closet appeals to me #asusual #nothingtowear #tonsofclothes
The only good thing related to money this week was my dad handing me a sealed envelope and telling me to have fun in New Orleans. Yes, I'm 27 years old and still get "vacation money" from my parents #dontbejealous #totallyadultofme #awyoushouldnthavedad
And since it excited me so much, and made me feel like the trip was really happening, I decided to leave it sealed as a special surprise to open the day I leave #loveagoodsurprise #hopeitstwohundo
I have a backless dress I'm taking on my trip aaaaannnnd my D's aren't going to rock in it without any support. Anybody have successes with stick on bras? Suggestions? #ineedsupport #inmorewaysthanone #nonipslipscuzimclassy
You know you're totally immersed in blogging when you have a dream about another blogger. Another blogger you've never met, who lives on the other side of the country. (
Amy
it was you, in case anyone is wondering). The dream was fucking nuts and included camping in the snow and hunting with dogs. I really need to stop eating late night snacks #whackedoutdreams #iblamegameofthrones #pleasedontreadintoit #butitwasnicetomeetdreamyou
And that's about all the crazy I have for one week.
Please link up with your crazy so I don't feel alone. K thanks.
TTFN,