Hello lovelies!
We're half way there - we've made it to humpday! Yeehaw!
So per usual, one of my blog besties,
Lauren
and I are teaming up to bring you the best kind of confessions, the ones with #hashtags.
So hang out and link up! Oh and go say hi to
Lauren
why don't ya?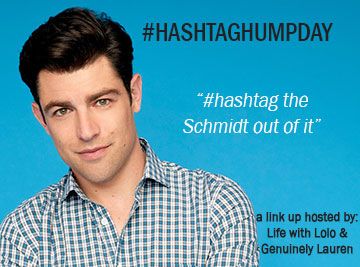 First a little business. Here's the scoop:
Each Wednesday create a post about what's going on in your life and #hashtag each item or story. See an example HERE. Be as creative as you want!
Grab the button and include it in your post

Link up so we can all #creep on you and find out what's new/funny/awesome /shitty in your life.
Comment on at least one other blogger's post from the link up (someone you don't already know!) if there even is anyone who links up…

Share on all your social sites with #hashtaghumpday
Have fun! #hashtagtheshitoutofeverything #whocaresifitsarealhashtag
Kapeesh?
Alright cool. Let's get on with it.
So, I've started
Whole30
. I haven't really gone in to details yet of the why and how, etc., I'll get there I promise #justletmegetgoingfirstwillyou
I have to admit I was only half prepared for the prep it would take. There were a LOT of expenses I didn't really think about. And I really need a new spiralizer I decided #buythatformewouldya #coconutaminosprobablywerentnecessary #conconutwhat?
Grocery shopping in a new light was fun though. I mean I like shopping in general, especially for killer deals
like the ones I found at Grocery Outlet
#shamelessplug #butgooddealsipromise
The first main struggle I have with the program is you aren't supposed to snack. It's not forbidden, but it's not recommended. So, when I started Monday and I felt like I was STARVING all day I was getting really pissed about that. And then I just snacked anyway #ineedtoeatalldaylong #snacksfordays #ifitshealthyitsokright
Second, nothing in the coffee. If you've been around these parts long, you know I'm "new" to the coffee drinking world. I kind of despise the taste in general, but if you put some cream and sugar in it
or blend it with ice and chocolate chunks and caramel
I can handle it. In fact I've kind of grown to really need that cup each day. But in Whole30 I have to drink it black #soimgoingbacktotea #itsnotworthit #whatCANiaddtoit?
Also, I've found myself slightly obsessed with the book. I decided to order
Whole30
and now I practically carry it around with me everywhere #cookbooknerd #probablyshouldreaditificarryitaroundright #theymakeitlooksoeasy
The only official recipe I have tried so far is the home made mayo #stickywhitemess #thatswhatshesaid
I'm looking forward to learning a lot during this process and hopefully shedding a little bit of weight. Mostly I need to kick some addictions I have and feel better #byebyecarbs #byebyesugar #byebyebooze.
What do you have going on this first humpday of August? #holyshititsaugustalready