Well Wednesday came up quick! Thank goodness for holiday weekends and short work weeks!
Make sure to drop in on you know who - my co-host in crime and hump-day-ing -
Lauren.
Go and give her some love why don't you?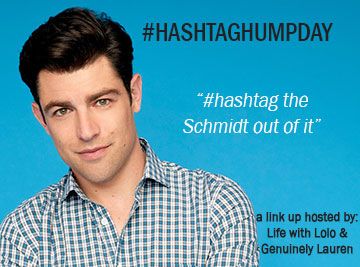 First a little business. Here's the scoop:
Each Wednesday create a post about what's going on in your life and #hashtag each item or story. See an example HERE. Be as creative as you want!
Grab the button and include it in your post

Link up so we can all #creep on you and find out what's new/funny/awesome /shitty in your life.
Comment on at least one other blogger's post from the link up (someone you don't already know!) if there even is anyone who links up…

Share on all your social sites with #hashtaghumpday
Have fun! #hashtagtheshitoutofeverything #whocaresifitsarealhashtag
Kapeesh?
Ok, so I don't feel like I have have a ton of confessions this week. So.... I'm going to do another
currently hybrid
for you. To, you know, fill the void...
Currently...
WATCHING
Project Runway. Is anyone else a fan? I love me some Tim Gunn. I also binge watched a bunch of Disney movies over the long weekend (I love ABC Family #Funday movie marathons), including Ratatoullie, Finding Nemo, Mulan and Tangled. Yes, I'm 27, no I'm not ashamed #givemeallthedisney #sitonthecouchlikeitsgoingoutofstyle #mydadcallsprojectrunwaythegayparade
EATING
All the Whole30 recipes still. I definitely have been off track since after "day 30" but I have all Whole30 recipes scheduled for this week and I can't get enough #cantstopwontstop #paleopizzapie #sloppyjoes #onrepeat
READING
Nothing. I need to get better about this. I have the first
Maze Runner
book downloaded on my Kindle as I was planning to read all of those before the next
movie
comes out. I also have a million more books on my
Goodreads
list. Maybe now that the weather is turning I can snuggle up and read #letsgetbacktoit #allthebooks #readingweather
WISHING
I wasn't so out of money. I feel like this year I am stretched so thin money wise. I'm so ready to #treatyoself with all the fall things and I can't. Also, with the BF's truck in the shop we can no longer afford to go to Hawaii this winter #cryingtomyself #selfpity #helpmeimpoor
HOPING
That my new birth control implant (happening today!) works out and that A) I don't have nasty scar on my arm B) I don't have terribly off schedule bleeding which they have warned about and C) it actually helps alleviate some of my other girly problems #fingerscrossed #itsgoinginthearm #nobabiesplease
FEELING
Ready for fall - shorter days, football weekends, cooler temps and pumpkin everything #basicbitch #ilovefall #soready
What are you #hashtagging this week? Link up!