Happy humpday! Can you believe we are only a week away from Thanksgiving? Me either.
You know what else we are a week away from? The ONE YEAR anniversary of #HashtagHumpday! Since the true date falls the week of the holiday, my lovely co-host Lauren and I have decided to celebrate the week after Turkey Day, hoping that we won't miss anyone who may be traveling for the holiday. So mark you calendars for the ONE YEAR #HASHTAGHUMPDAY PARTY on December 2nd! We will be giving away a prize to our lovely link-ers!
Whoa, so much excitement and we aren't even there yet!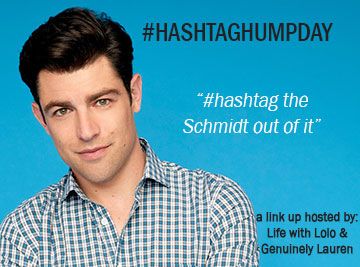 First a little business. Here's the scoop:
Each Wednesday create a post about what's going on in your life and #hashtag each item or story. See an example HERE. Be as creative as you want!
Grab the button and include it in your post

Link up so we can all #creep on you and find out what's new/funny/awesome /shitty in your life.
Comment on at least one other blogger's post from the link up (someone you don't already know!) if there even is anyone who links up…

Share on all your social sites with #hashtaghumpday
Have fun! #hashtagtheshitoutofeverything #whocaresifitsarealhashtag
Kapeesh?
There is so much swirling around in my head this week. The work front has turned into death-con-5 and it's been so emotional that I've felt physically sick more than once. I'd elaborate but I can sum it up pretty simply: politics suck #especiallyincaldwell #commissionerscansuckadick
One of the outcomes of the work shit storm is that we have cancelled our New Year's Eve event. When I first heard this idea I was all for it as it meant a lot less work for me, and that I would get to celebrate the occasion not at work for once. Then I realized I had to cancel all my sponsors #andmyheartbroke #worstcallsever #andihavecallanxietyremember
Still, I'm trying to look at the bright side #moretimeforblogging
The only good thing about work right now is that we get to go to Las Vegas for convention soon! Eeeeee! I think it will be really good as the whole office is going and we all need to blow off some steam after the nightmare that the last two weeks have been #whathappensinvegas #oncompanydollar
All the work stress had led to a lot of stress eating. Like the two batches of cookies I've baked in the last two weeks and that loaf of pizza bread I may have eaten all by myself this weekend
and the chips and cookies.
I really need to get it under control before I gain 10 lbs before Vegas and the holidays #muststopeating #ohlookfood!
I had a long list of winterizing items to take care of this weekend in my yard. It was all part of my
fall bucket list
. Guess how many I got done? Zero. Guess what happened Monday? It snowed #FML #icanneverdoanythingright #toolatenow
Speaking of snow can I just say how much I hate it when it comes before Thanksgiving? I think I would be ok with it if it managed to happen in what I deem the "holiday season" but we aren't there yet. That's
after
Thanksgiving. But there's white stuff already. And it's cold #whinybitchpartyofone #atleastihaventhadtoshovelyet
And just a couple of teasers for you to look forward to... drum roll please... Tomorrow you can laugh it up with my attempt at fashion blogging for the amazing
Wear to Where blog tou
r hosted by
Angelica
and
Katy
! Plus coming up as a possibility for your main man's holiday gift - my DIY boudoir shoot tips that I'll be sharing over at
Hey Kerri Blog
! #iknowyourepeeingyourpantsyouresoexcited
Confessions are the best aren't they? Get more bang for you buck and go link up with
Kathy
,
Nadine
,
Alanna
and
Plucky
! #youknowyouwanna
So many lovely ladies to party with! Don't forget to link up with us too! Though we be a small link-up, our #hashtags are mighty!