Happy Humpday everyone! Thank you so much for stopping by to celebrate with us! These days there are so many Wednesday link ups, it get's a little daunting. I'm so grateful for those of you who have stuck with us all this time and continue to link up!
The good news? All of us Wednesday confessors and #hashtaggers are buddies, so you can link up anywhere and everywhere!
So go say hi to all my friends too, and send them over for the giveaway! Alanna for confessions as well as Plucky in Love, and then Kathy and Nadine! So much humpity-hump-day love!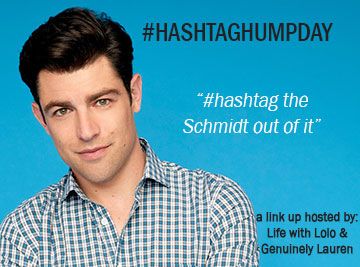 First a little business. Here's the scoop:
Each Wednesday create a post about what's going on in your life and #hashtag each item or story. See an example HERE. Be as creative as you want!
Grab the button and include it in your post

Link up so we can all #creep on you and find out what's new/funny/awesome /shitty in your life.
Comment on at least one other blogger's post from the link up (someone you don't already know!) if there even is anyone who links up…

Share on all your social sites with #hashtaghumpday
Have fun! #hashtagtheshitoutofeverything #whocaresifitsarealhashtag
Kapeesh?
Short and sweet this week since I'm gone.
I cannot believe I've had a link up for ONE WHOLE YEAR. And that people actually link up to it!
I'm still not excited for Vegas and I'm here. Oh I take that back, I am excited for Inn-N-Out Burger.
I'm terribly sad I'm not in town for this day, poor planning on my part. I'm sure all my lovely friends linked up below will have some much more amusing confessions for you. I'll see you next week!
To say thanks for all our loyal linkers, we have a little giveaway for you! Feel free to share the love! Please be honest with your entries, we will be checking!
a Rafflecopter giveaway