I know you are going to get sick of me talking about this damn boot and injury, but #sorrynotsorry. I've been lacking material around these parts so when life hands you lemons a bout on crutches you make blog lemonade, alright?
Before we get into it, let me remind you you have a plethora of link ups to confess your face off to every Wednesday. #Hashtaghumpday with my partner in crime
Lauren
and I of course,
Alanna for confessions
as well as
Plucky
in Love, and then
Kathy
and
Nadine
! So much humpity-hump-day love!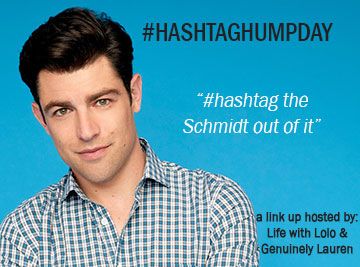 First a little business. Here's the scoop:
Each Wednesday create a post about what's going on in your life and #hashtag each item or story. See an example HERE. Be as creative as you want!
Grab the button and include it in your post

Link up so we can all #creep on you and find out what's new/funny/awesome /shitty in your life.
Comment on at least one other blogger's post from the link up (someone you don't already know!) if there even is anyone who links up…

Share on all your social sites with #hashtaghumpday
Have fun! #hashtagtheshitoutofeverything #whocaresifitsarealhashtag
Kapeesh?
Did you go get caught up with why I'm in a boot with crutches yet? Because that's key to confessions today. Long story short - volleyball, severe sprain, hating life.
Ok moving on.
I work in a barn. Or so I like to say. I work in the up stairs office space in horse arena that we use to house animals in during the Fair (so a barn). Key words here, UP and STAIRS. The thing of nightmares to people on crutches. Here's the fun part, no elevator... and... the only bathroom is downstairs #howisthisgoingtowork #doihavetogotoworkreally?
So enter me going back to work this week. I had to be helped up the stairs when I arrived. Ok, no biggie. But then I also need help going back down stairs to go to the bathroom. Nothing steals your dignity like having to ask a coworker to help you get down to the bathroom. Nothing. It's like being a three year old all over again #icanthandlethis #mortifying #drinknothingallday
I was given a special sock to wear in my boot. You are supposed to wash it. But when? And how if I can barely crutch my ass into the laundry room #smellyfootisjusteasier #hopeidontgetarash
I was going to get a pedicure this week #guessthatsnothappening
I was also supposed to go up to my Alma mater this weekend for an advisers meeting at the sorority. I just can't fathom crutching around all weekend, not at home, on a hilly campus though. It's still tentative, I mean I could suck it up, but really I'm not sure it's a good idea #netflixathomesoundsbetter #crutchesruineverything
I'm really trying not to be depressed about the whole situation. Good thing I can look at these and laugh right? #sortof #fakeittillyoumakeit
And that's it for this week. Hope you two legged folks are fairing better than me this week. Link up why don't ya!?