Hey humpdayers!
I've been sparse around here and unfortunately I will continue to be until I can get my ass in gear and decide if and how I'm going to maintain this blog. Send some positive mojo my way so that this space doesn't slip away would you? #positivevibes #savetheblog #getmemotivated
Before we get into it, let me remind you you have a plethora of link ups to confess your face off to every Wednesday. #Hashtaghumpday with my partner in crime
Lauren
and I of course,
Alanna for confessions
as well as
Plucky
in Love, and then
Kathy
and
Nadine
! So much humpity-hump-day love!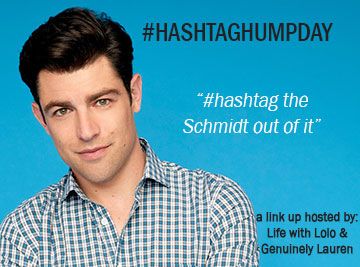 First a little business. Here's the scoop:
Each Wednesday create a post about what's going on in your life and #hashtag each item or story. See an example HERE. Be as creative as you want!
Grab the button and include it in your post

Link up so we can all #creep on you and find out what's new/funny/awesome /shitty in your life.
Comment on at least one other blogger's post from the link up (someone you don't already know!) if there even is anyone who links up…

Share on all your social sites with #hashtaghumpday
Have fun! #hashtagtheshitoutofeverything #whocaresifitsarealhashtag
Kapeesh?
I confess, I'm a little burnt out on this space and I've used the new job as an excuse. I've lost all opportunity to blog at work and that was once where I did a majority of my blogging. Now that it's not the way to burn up time at a job I'm not happy with, it seems more like an obligation and I never EVER want it to be that #soineedtofigureitout
That doesn't mean that there hasn't been time to blog. There has. Maybe I'm just a lazy pile of... #youknowwhat
Mostly I feel super guilty about not reading and commenting like I used to do. I have made such outstanding friends through this space and through connecting and commenting and I have totally let that slip. Mostly I want to say to you all SORRY!!!
For those of you still sticking around while I figure my shiz out, thank you. I LOVE YOU!
And that is really all I have today. The confession that I'm a behind, a bit lost, lazy and missing the hell out of you all. Here's hoping I can turn it around!
Cheers until we meet again! Now go link up!