I seriously cannot believe it is day 30. DAY 30!!! I can honestly say that I will have made it through all 30 days without a cheat (that I'm aware of), and for that I am unbelievably proud.
Tonight I will celebrate with a big ol' steak and potatoes (all Whole30 compliant of course because it's still day 30). Tomorrow though - who knows! I can't decide if I want to have tiny piece of chocolate, or a beer. One will be had to celebrate, that's all I can say.
If you are just tuning in,
Amy
and I decided that 2016 would be the year we broke up with our bad habits, and we asked anyone and everyone in the blog world (or otherwise) to join in! Whether you picked one habit to focus on or kick for the 30 days, or joined us for
Whole30
, we were all in it together!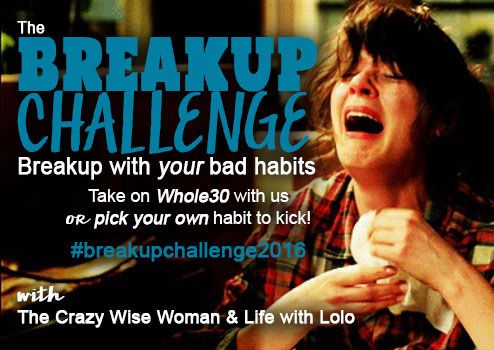 I felt like I took this last week in stride. Even though I didn't get to the grocery store till Wednesday night, which caused some difficulties, I was still able to throw together compliant meals easily and never seemed to get tired of things. I have a new appreciation for always having eggs on hand though, the few days I went without were a struggle!
Even on my girls' night out for a birthday party, at my FAVORITE restaurant (Japanese grill where they cook in front of you), I ate beforehand, sat happily and sipped my ice tea through the whole meal, and was fine. I know I could have asked for something cooked in a special way, but I just didn't feel like being "that girl" who ordered everything with no butter, no teriyaki and no soy sauce. I mean how big a joy-kill would that be? Instead I enjoyed catching up with my friends without the distraction of food. Strange new concept eh?
Then Sunday was the first time I put something on and went "whoa" when I looked in the mirror. Maybe it's because I haven't been dressing overly nice lately (peg leg issues) but when I put on a fitted long sleeve T that day I could tell I looked slimmer. It made me smile the rest of the day!
I was planning on doing measurements last night and sharing them today, however, that would technically be a cheat since I'm not officially done with the program. My goal is to do everything by the book so that will have to wait. Amy and I will (tentatively) do our results post next Tuesday!
Other than that I don't have a lot to report. I don't feel overly tigers-bloodish or have a ton of energy. Having only one leg really wipes you out, and I blame that. I wish more than anything I was having that increased focus, happiness and drive as we finish out the challenge, but alas I don't. I'm just excited to have made it this far and to be able to say I've done it. DONE.
So, here's what I ate for the last time! I didn't do nearly as good of a job tracking or photographing everything this week like I promised, but this will give you an idea at least.
Breakfasts: fried eggs with leftover potatoes | scrambled eggs with guacamole | potato, onion, pepper, bacon, turkey and egg hash | leftover hash topped with a fried egg
Lunches: shredded chicken, mashed with half an avocado over greens with Whole30 ranch and La Croix | leftover kitchen sink soup | leftover sloppy joes over sweet potato noodles | leftover chicken parmesan breast with salad | Cafe Rio salad with no tortilla, rice, beans or dressing, extra meat | leftover chicken carbonara bake with salad
Dinners: shredded chicken, mashed with half an avocado over greens | Baja Fresh shrimp salad without the dressing, cheese or chips | sloppy joes over sweet potato noodles with green salad | "kitchen sink" soup with leftovers thrown together and simmered in beef broth | chicken "parmesan" over sweet potato noodles with salad | chicken carbonara bake (spaghetti squash, chicken, bacon, spinach and artichoke)
Snacks: hard boiled eggs, hot tea, black coffee, fresh fruit
Alright, go say hi to Amy and check out her progress. Did you join in? Link up!