How is it April already? Time is whipping right past me and I've had zero time to catch up. Or blog, obviously.

Before we get into it, let me remind you you have a plethora of link ups to confess your face off to every Wednesday. #Hashtaghumpday with my partner in crime
Lauren
and I of course,
Alanna for confessions
as well as
Plucky
in Love, and then
Kathy
and
Nadine
! So much humpity-hump-day love!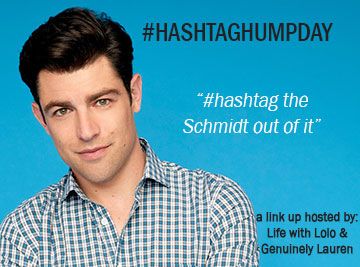 First a little business. Here's the scoop:
Each Wednesday create a post about what's going on in your life and #hashtag each item or story. See an example HERE. Be as creative as you want!
Grab the button and include it in your post

Link up so we can all #creep on you and find out what's new/funny/awesome /shitty in your life.
Comment on at least one other blogger's post from the link up (someone you don't already know!) if there even is anyone who links up…

Share on all your social sites with #hashtaghumpday
Have fun! #hashtagtheshitoutofeverything #whocaresifitsarealhashtag
Kapeesh?
So I went up to my university this past weekend for my sorority's centennial celebration. It was a humbling and amazing event, and I can't even begin to explain how blessed I feel to be a part of something so much bigger than myself. There was more love, memories and dirty songs shared than I could have ever hoped for. It was the largest alumni reunion the University has ever had. Basically Kappa rocks #wearethekappagirls #kkgforever #betakappa100
Ok so that first one wasn't a confession really but this one is. I am really proud of myself for being back in my college town, surrounded by sorority sisters at my favorite bars, and not over doing it. I think I'm finally a grown up #justtherightamountofbeer #andshinanegans #withnohangovers
And even though it was an awe inspiring experience to share Kappa with 500 other returning women, oddly enough I still felt a bit left out. Some of the women I'm closest with didn't make the trip and while I love all the girls I spent the weekend with I could help but feel like the 11th wheel a bit and definitely not one of the cool kids #triednottoleitphaseme #lonerpartyofone
Overall though it was an amazing weekend, and a beautiful one at that. Spring and summer, here we come! #shadesfordays #ifonlyihadthebikinibody
I feel extremely sad that this is all I really have to share with you. Are you as bored with me these days as I am with myself? I really need a kick in the ass. Or to at least make a decision about this space. I know I keep saying that over and over, but it's way too hard to let it go, and even harder to make it work. We shall see what wins out #myvoteisfortheblog #letshopeicanmakeithappen
And now, since I was stupid and started watching our full set of Planet Earth blu-rays, I'm too distracted to give you much else. But hey, this stuff is educational right? #babyanimals #planetearthforthewin
Happy Wednesday folks!