"Hey - Mike, Mike, Mike, Mike, Mike. What day is it?"
That's right it's #HASHTAGHUMPDAY again!!! Time to get it all out and #hashtag the Schmidt out of it with Lauren over at
Genuinely Lauren
!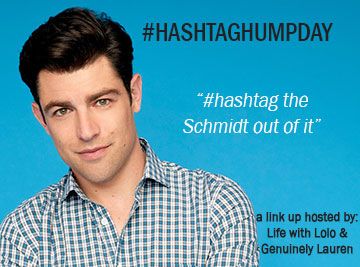 First a little business. Here's the scoop:
Each Wednesday create a post about what's going on in your life and #hashtag each item or story. See an example HERE. Be as creative as you want!
Grab the button and include it in your post

Link up so we can all #creep on you and find out what's new/funny/awesome /shitty in your life.

Comment on at least one other blogger's post from the link up (someone you don't already know!) if there even is anyone who links up…

Share on all your social sites with #hashtaghumpday
Have fun! #hashtagtheshitoutofeverything #whocaresifitsarealhashtag
Kapeesh?
PLUS, it's time for
currently
with
In Residence
and
Dearest Love
! So you can get twice the love for your #hashtags if you do both #sotheresnoreasonnotto #rulenumber76 #noexcuses #playlikeachampion
Making
bang bang shrimp pasta. Because when the boyfriend's gone I eat all the food he doesn't like – shrimp for example. #bangtastic #getinmybelly
Listening
to the dog and cat rambunctiously play, Big Bang Theory in the background and XM Holly all day errday in the car (channel 17 if you are wondering) #mypetsareobnoxious #iheartsheldon #hessozazzy #hollyjolly #christmasmusicordie
Wrapping….
Is this a trick question? I haven't gotten that far. No tree, no place to put wrapped gifts #thatsmystoryandimstickingtoit
Watching
Elf and the original animated How Grinch Stole Christmas and every other Christmas movie I can get my hands on. As a kid I thought the animated Grinch was a full movie – and it's only 25 min long??? #wtf #loveitstill #buddytheelfwhatsyourfavoritecolor
Anticipating
flying to VEGAS on Sunday! I'm headed down to Las Vegas for a work convention (which I got a scholarship to attend!) and then my best friend is meeting me down there for Vegas shenanigans. Those will include a reindeer run, outlet malls, lots of In-N-Out Burger and possibly a rowdy night on the town #TBD #isitsundayyet #vegasvirgin #VEGAS!!!!
AND I'm adding this one to the list, because this happened...
Appreciating
the young lady who rescued my baby (Gunner) from a very busy street near my house Monday evening. She kept him in her car till I could come pick him up almost 30 minutes later. I am SO SO SO SO grateful to that girl. Words cannot describe it. Thank God for good Samaritans and dog lovers #yourockmyworld #amillionthanks #howcanieverrepayyou
Ok your turn! Link up. #HASHTAG things (this is key) and have fun!