Well howdy do, and happy humpday to you!

Welcome to the first installment of #hashtaghumpday of the new year! I continue to hope this little link up of ours is going to explode with popularity - so help out with that and link up would ya?
Then go over and give my co-host,
Lauren
, at
Genuinely Lauren
some love. Because it's humpday and were all about...well you know what on humpday...love (duh!)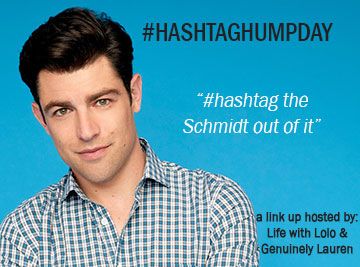 First a little business. Here's the scoop:
Each Wednesday create a post about what's going on in your life and #hashtag each item or story. See an example HERE. Be as creative as you want!
Grab the button and include it in your post

Link up so we can all #creep on you and find out what's new/funny/awesome /shitty in your life.

Comment on at least one other blogger's post from the link up (someone you don't already know!) if there even is anyone who links up…

Share on all your social sites with #hashtaghumpday
Have fun! #hashtagtheshitoutofeverything #whocaresifitsarealhashtag
Kapeesh?
Alright. So 2015 is well underway. Did you make resolutions? I didn't. Mostly because I always fail at them, but also because I think that changes in your life should be constant - not just initiated around the first of the year. So how is that going for me? #notsowell #illstartnextweek #nomnomnomeatallthefood #thegymcanwait
This is the first full week of work I've had for quite some time #thankyouholidayseason. And it has been torture. I'm already counting down to my next 3 day weekend. Thank God I work for the government and get MLK Day off! Oh but here in Idaho it's called Human Right's Day because it's IDAHO and we have issues having a holiday for you know who #homeoftheKKK #mystateisassbackwards #idontcondonethis. Seriously, sometimes I hate my state for the prejudices some of the people hold. Good thing it's pretty here #idahoisstilllawesome.
This week I am seeing Camelot (broadway musical) with my family. It will be the second musical exposure of the week, as we saw Into the Woods this weekend. I'm PUMPED for Camelot, it's my mom's all time fav. However, I feel really bad my dad has been dragged to both of these without being properly warned. Oh and Into the Woods? Uhhh.... might be a renter. It was weird. I like musicals and fairy-tales but this one was still a little hard to sit through. Just wait for the waterfall scene, you'll know exactly what I mean #istillloveyouchrispine #pleasedonteversingagain
Taking down the Christmas tree was a huge ordeal at my house, resulting in me getting smacked in the head with the tree stand. Add in my vacuum not really working and I was close to tears #goodbyechristmas #somanyneedles #damnyouvacuum
I keep forgetting to bring my new shoe calendar to work, so it's still December 31st at my desk #holdingontothepast #365daysofshoes
I bought this Greek yogurt spinach artichoke dip at Costco this week and it is #amazeballs. Seriously it is so good - hot, cold, on chips or on veggies or with a spoon #getyourselfsome #spreaditoneverything
Is it Friday yet? No? Still humpday? Well at least come link up so we can have a little fun on our way to the weekend! I'll be over here eating spinach and artichoke dip in the mean time.
TTFN,