Yipeee! Humpday comes so quickly when you have a three day weekend!
Time to link up with yours truly and/or my gal pal
Lauren
for some #hashtaghumpday #confessions!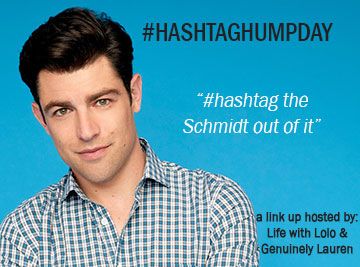 First a little business. Here's the scoop:
Each Wednesday create a post about what's going on in your life and #hashtag each item or story. See an example HERE. Be as creative as you want!
Grab the button and include it in your post

Link up so we can all #creep on you and find out what's new/funny/awesome /shitty in your life.
Comment on at least one other blogger's post from the link up (someone you don't already know!) if there even is anyone who links up…

Share on all your social sites with #hashtaghumpday
Have fun! #hashtagtheshitoutofeverything #whocaresifitsarealhashtag
Kapeesh?
Ok, this week I'm going to fill you in on some of reasons that I sometimes consider myself "crazy." I mean we all have those moments right?
First off, I don't care whether it's Coke or Pepsi. Diet soda is diet soda. I'm ambidextro(soda)ous and I don't care #caffeine #itsallgood #getinmybelly
Second, I talk to my dog as much or more than anyone else in a day and I'm 99% sure he understands every word #hesmybestfriend #nottalkingtomyself
Third, I whole heartedly believe my car is 100 x sexier when it's clean and a car was does not count as breaking the rules of my spending freeze because I NEED a sexy car #shallowmuch #sexyredcar #ihaveissues
Fourth, I consider Trivia Crack educational and therefore not a time waster #ilearnedreelgood #theresanappforthat
Fifth, I have to have a plan, and if I deviate from the plan I get very irritated. I need to know what time I'll be leaving work, what my plan is for the dog park, dinner and household activities by noon or I have a panic attack the rest of the afternoon #typeA #planner
Sixth, that planner in me also likes a schedule in the morning and if it's thrown off my whole day is off. That schedule includes brushing my teeth in the shower and wearing sweat pants around my house in between pajamas and my work clothes and BOTH must happen in the morning for me to function #weirdo #imakesweatpantslooksexy
Do you have any habits that make you sort of crazy? Spill and link up!
TTFN,