So I know I have been a little MIA this week.
I have a viable excuse though, I have the plague. Or at least it feels that way.
It's been a long time since I've had sinus pressure so bad that it made my teeth hurt. But that's where I'm at this week.
However, sickness is not an excuse to miss #hashtaghumpday with the lovely
Lauren
, actually it's a really good excuse to
bitch
complain about being sick! HAHA!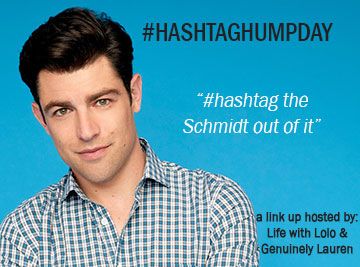 First a little business. Here's the scoop:
Each Wednesday create a post about what's going on in your life and #hashtag each item or story. See an example HERE. Be as creative as you want!
Grab the button and include it in your post

Link up so we can all #creep on you and find out what's new/funny/awesome /shitty in your life.
Comment on at least one other blogger's post from the link up (someone you don't already know!) if there even is anyone who links up…

Share on all your social sites with #hashtaghumpday
Have fun! #hashtagtheshitoutofeverything #whocaresifitsarealhashtag
Kapeesh?
Working so far away from home sucks. I work about 25 miles away from home, a solid 30+ minute drive. It makes it really hard to decide on sick days. Because once you drive all the way out there it seems a waste to come home no matter how miserable you feel. Still I did it on Monday #becauseIwasdying #sinusheadache=death #soworthit
Usually when I am sick, the worst I feel is in the mornings when I get up, and in the evenings right before bed. However this particular strain of the plague likes to get WORSE as the day goes on #whatkindofshitisthat #someofusneedtowork
I was doing so, so good on my Warrior Fit diet plan, going to classes and being super active last week. Then the shit it the fan, or more rightly the illness hit Laura and all good intentions were out the window. All I want when I'm sick is comfort food and I sure as hell don't want to cook it #bringmemacandcheese #andacheeseburger #friestoo
Does anyone else follow drug instructions carefully? Or do you throw them out the window like I do? I may or may not have taken Night Time Cold and Flu medicine, Tylenol Sinus, and a PM Tylenol all last night to ensure I slept #Imighthaveaproblem #itworkedthough
Anyone else have the plague? Or is it just me who's allergies have morphed into the nasty head-cold power ranger of death?
Send happy thoughts and sing me Soft Kitty.... tissues wouldn't hurt either.
TTFN,
PS - don't forget to enter the
Ashley Nevis Prints GIVEAWAY!!!!