Heyo! I'm here on my last day of the real world. Tomorrow I jet off to New Orleans for the bachelorette/birthday extravaganza!!!!
To say I'm a little distracted is a bit of an understatement. I. CAN'T. FREAKING. WAIT.
But before I dive in head first to more chit chat about my trip, go say hi to my partner in crime,
Lauren @ Genuinely Lauren
! She's the best!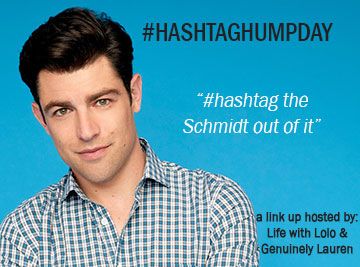 First a little business. Here's the scoop:
Each Wednesday create a post about what's going on in your life and #hashtag each item or story. See an example HERE. Be as creative as you want!
Grab the button and include it in your post

Link up so we can all #creep on you and find out what's new/funny/awesome /shitty in your life.
Comment on at least one other blogger's post from the link up (someone you don't already know!) if there even is anyone who links up…

Share on all your social sites with #hashtaghumpday
Have fun! #hashtagtheshitoutofeverything #whocaresifitsarealhashtag
Kapeesh?
Alright. I'll say sorry in advance that this is so vacation centered, but...... I can't even function outside of my excitement for the trip, so you get what you get #andyoudontthrowafit.
I've been spending more time than usual with a couple of my girlfriends that are going on the trip. Usually we are so busy we are happy just to see each other about once a month. We have now hung out two consecutive weekends in a row, and have a constant text and/or facebook message going at all times. And it's WONDERFUL. And it makes me that much more excited to hop on a plane with them tomorrow #cantwait #moregirltime #hopeitdoesntendafterthetrip
Along with that, part of the constant contact is because we had kind of a crazy idea at one of our weekend pool parties. We want to open a business together. I'm not going to go into details, but I think with our three strengths in different areas we might actually be able to do it. It would be a dream come true, but I'm trying not to get my hopes too high as it's a long way off #nomoreworkingfortheman #dreamjob #bemyownboss #girlpower
We also may have discussed getting tattoos while in NOLA #yolo #girlfriendtattoos
I went ahead and bought a sticky option for my backless dress that I discussed
last week
. I decided to go with "breast lifts/shapers" instead of a "bra" as the dress holds me in pretty well. TMI? #sorrynotsorry #hopeitworks #stickyboobsfordays
Speaking of dresses and things to wear on the trip I am SO EXCITED to actually have a place to wear all my cute summer tanks and shorts and dresses. Let's be real - most weekends I don't get all that done up, I'm in yoga pants and a tank, and I can't wear cut offs and a spaghetti strap shirt to work. So yay for long weekends in hot climates where I can wear all my cute stuff! #iknewiboughtitforsomething #shortshorts #maybealittleextraskin
I'm a little bit worried about all of the alcohol to be consumed on the trip. Since I'm old now, I can't seem to handle myself and I get the worst hangovers known to man, so I need to take it easy there. That many girls all in one place is going to be stressful. Please God let there be some self control involved #formysake #andeveryoneelses #justsaynotohangovers
I don't think that will stop me from indulging some on the plane though #ibringmyownminibottles #planecocktailsarepricey #givemethecomplimentaryshitandillspikeitthanks
Seriously guys I'm so ridiculously excited. Someone please tell me how to get through the rest of this day without going crazy #ineedtogetoutofhere #checkedoutalready #sayonarasuckers
Needless to say you probably won't see me much around these parts, or commenting on your lovely spaces for the next few days. But follow along on my boozeventure in New Orleans on my
instagram
and
Facebook
! Heck I might even
Tweet
about it #crazierthingshavehappened. We'll be using #MooreNOLAmore!
Love you all! Wish I could take you all with me!