So here we are again at hump day! Yeehaw and hallelujah!
I mean really, I know we all wish it was Friday but I'll take what I can get.
Plus tomorrow is my Friday so ha!
Before I get on to my extremely random ramblings this week, make sure you go say hi to my co-host and partner in crime Lauren @ Genuinely Lauren. Did you go? Good. Welcome back.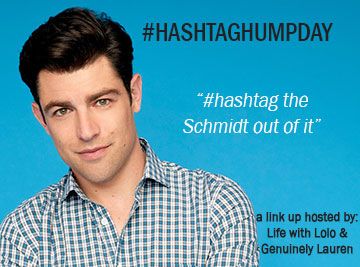 First a little business. Here's the scoop:
Each Wednesday create a post about what's going on in your life and #hashtag each item or story. See an example HERE. Be as creative as you want!
Grab the button and include it in your post

Link up so we can all #creep on you and find out what's new/funny/awesome /shitty in your life.
Comment on at least one other blogger's post from the link up (someone you don't already know!) if there even is anyone who links up…

Share on all your social sites with #hashtaghumpday
Have fun! #hashtagtheshitoutofeverything #whocaresifitsarealhashtag
Kapeesh?
Sooooo fair warning I have nothing pressing on my mind so this is going to be all over the place...
Remember that
spending freeze
I was trying to have this month? Well I've pretty much done the opposite. After my makeup purchase I mentioned
last week
, I also had a Target run, shopped with Whitney while she was here this weekend and dropped some serious cash on a few
Groupon
s since they were having an extra 20% off. In fact I overdrafted from checking. Seriously I have a problem and it needs to stop #butineededitall #theworldgetsbetterwhenishop #shoesalwaysfit
So one of those Groupons had to do with a beauty related service. It's something I've really wanted to try but haven't been willing to shovel over the cash for. I might have snuck in for an appointment on Friday even. I can't wait to share with you #butimkeepingyouinthedarkfornow #butimgoingtolookawesome #forcheap
Engagement gifts. Thoughts? A friend of mine got engaged and keeps posting perfectly posed instagram shots with them - you know the ones - with her ring showing over her new Erin Condren Wedding Planner? So it brought to mind - AM I SUPPOSED TO BUY ENGAGEMENT GIFTS TOO?! I mean think about it. I usually buy a bridal shower gift, fork over quite a bit of money to participate or travel to the bachelorette party, and buy a wedding gift. So is this another thing I need to be doing? #pleasehelp #tellmeidontneedto #whyarepeopleoverdoing #itmakesmelookbad
But on that note, if I ever get engaged, you are welcome to send me gifts #noshameinmygame
Does anyone have the Nexplanon birth control implant? I'm contemplating getting one. My nurse practitioner doesn't really think it's the best option but two of my girlfriends have it and love it. I was just looking for some additional feed back. If you don't know what that is - it's an insert that goes in your arm and lasts for 3 years. Way less scary to me than the Mirena thing that goes up your whoohaw #tmi #butineedyourthoughts #nobabiesformeplease
Do you like football? (YOUR ANSWER BETTER BE YES). Then you should join the Fantasy League that
Lindsay
and
Rebekah
are hosting! You guys it's called Sacks in the City I mean how #punny is that? Also, if you don't know much about football, no biggie! My first year of Fantasy Football I didn't either and that's when I really found a love for watching pro games. I mean it's so much more fun if you have lots of different players to cheer for! I get downright obsessive. Anyways, you should join #orelse #doit #virtualfootballpartieseveryweekend #girlsonly
I feel like this was more questions than confessions. But I'm ok with that. Happy half way through the hell that is the work week day friends!
TTFN,