I'm a little behind this week if you couldn't tell by my late weekend recap on a Tuesday afternoon.
Hey, #shithappens.
Anyways, we've made it to humpday so let's do the darn thing! Make sure you say hi to my lovely co-host Lauren. And why not link up with Alanna for confessions too? Two birds. One stone. You know I'm all about that!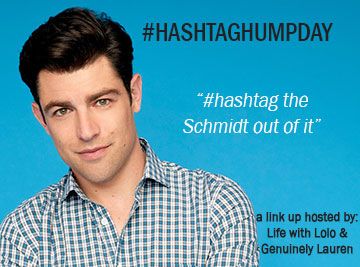 First a little business. Here's the scoop:
Each Wednesday create a post about what's going on in your life and #hashtag each item or story. See an example HERE. Be as creative as you want!
Grab the button and include it in your post

Link up so we can all #creep on you and find out what's new/funny/awesome /shitty in your life.
Comment on at least one other blogger's post from the link up (someone you don't already know!) if there even is anyone who links up…

Share on all your social sites with #hashtaghumpday
Have fun! #hashtagtheshitoutofeverything #whocaresifitsarealhashtag
Kapeesh?
Going back to your college town, with one specific reason in mind (drinking), is rough to say the least. Thus I have some confessions from this weekend to share today.
First off, getting old sucks. For lots of reasons like, 1) having to pay the tab for the college kids, 2) feeling like an old lady everywhere you go, and 3) having no tolerance built up #itwasashitshow #andifundedit
I don't mind paying for things, especially for my sister's birthday, but that overdraft notice Monday morning was a bitch #fml #ofcoursethathappened #howmanyshotsdidwedo?
While I am very impressed with my sister making it to 21+ drinks (which I definitely didn't do on my 21st) I felt a little lied to. Like how did you have this super power all a long and I didn't know? #ithoughtiwasthedrunkinthefamily
The thing I am most mortified about from the weekend was running into my "advisee" from my sorority. I don't take being an advisor all that seriously, but I would like to keep up the impression that I am a successful, functioning adult around her, which I am sure was not apparent when we met for the first time at the bagel shop at 1 AM. It's just really not the sort of thing I wanted her to know about. The whole encounter was a little fuzzy but I know I was slightly shocked that she knew me right away #notagoodsign. Hopefully nothing too horrible was said and I was informed it was mostly hugging and loud noises #drunksororitygirlsunite #atthispointiwastoodrunkforabagelletaloneaconversation
Apparently we also went through the coffee drive-in prior to bagels #musthavebeenpukinginthebushes #notringinganybells
In non-drinking news I also ate all the things this weekend. Like a burger with jalepeno artichoke dip on top smothered in more cheese and more jalepenos with beer battered fries. And my all-time favorite breakfast, a french toast sandwhich benedict, yes it's as magical as it sounds. #caloriesdontcountinacollegetown #ididhaveonesidesalad #iddoitallagain
The final realization from this weekend is that I really,
really
miss college. I know a lot of people say it's NOT the "best years of your life" but I have to argue that. Classes sporatically throughout the week and day, no real responsibilities, a town full of your best friends, and drinking without hangovers? Those were the best years ever. More awesome than I ever realized. I wish I had appreciated it more. #takemeback #dontgraduatein4ifyoucanhelpit #bestdaysofmylife
Now I'm back to detox and veggie overload. Send prayers for my liver.
Happy humpday ladies! Link up and pop over to
Alanna & Co
. too!