For the last couple months I've been on a kick to really grow this space, make it better and turn it into a meaningful business. I've done webinars and scoured Pinterest for tips. I've tried to invest in better content and spend time commenting and reaching out to new bloggers.
Then I have a weekend/week like this and all of that goes out the window.
We've all heard it. The #1 Tip for Blogging: Be consistent. Post consistently. Comment regularly. Consistent. Consistent. Consistent.
So when I decide to take almost a week off that fairs badly for that "I'm going to be an awesome blogger!" mindset I had going for a while...
It's not just in blogging that I struggle for consistency though. I'm all over the place, all the time.
But before I get into my inconsistency problems, go say hi to my co-host in crime Lauren. Then make sure to link up with Alanna for Confession too, because why not get more bang for your hashtag buck?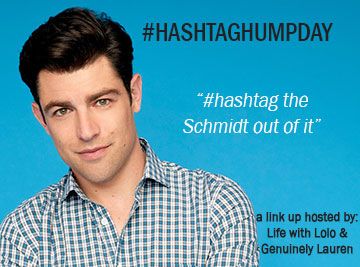 First a little business. Here's the scoop:
Each Wednesday create a post about what's going on in your life and #hashtag each item or story. See an example HERE. Be as creative as you want!
Grab the button and include it in your post

Link up so we can all #creep on you and find out what's new/funny/awesome /shitty in your life.
Comment on at least one other blogger's post from the link up (someone you don't already know!) if there even is anyone who links up…

Share on all your social sites with #hashtaghumpday
Have fun! #hashtagtheshitoutofeverything #whocaresifitsarealhashtag
Kapeesh?
Ok back to my consistent inconsistency.
As I mentioned before blogging consistently is often a problem for me. I'll have weeks when I post five times a week and then other weeks where I post twice. This is probably one of those 2x weeks, in case that wasn't apparent #iblamedaylightsavings
Working out is also one of those things in which I would benefit from consistency. I went to the gym on Friday for the first time in months. I waddled the rest of the weekend #legdaybro
Of course the BF likes to point out I wouldn't be
that
sore if I went regularly #noshit #youreagenius
Throw in eating habits paired with those above workout habits and you have my usual downward spiral. Eat like a rabbit for two weeks, then like a cow (a cow that eats pizza and pasta and cookies) the next ten #itsaboutbalance
How about cleaning? Should be a weekly or even daily thing right? Typically I clean the whole house on Sundays. I do that a few weeks. Then I don't #itgetsdusty #dontjudgeme #ijustwannalaydown
Another struggle I have is spending time with and keeping up with friends in a regular fashion. One week it's tow girls nights, a birthday party, time with my family and texts non-stop daily. The next week I hide my phone and lock myself in with Netflix #beingsocialishard
Finally, and the worst of all my inconsistency, is actual work at my actual job. Some days I crush it, some days are for blogging and
insta
instead #ineedtogetmyshittogether
So how do you stay consistent? I know I've asked a lot of
questions
lately, but apparently I really need some help #consitencypitypartyofone
Is this something a planner would solve? I think I need a planner...
Or a vacation. Or a stiff drink.
You linking up would help for sure though, so go right ahead.
TTFN,