Between being away from work for a week and a half, my swirling emotions and the holiday craze I'm one break down away from the loony bin friends. But more on that to come.
Happy Humpday and thanks so much for stopping by. I'm still in disbelief my gal pal Lauren and I have had this link up over a year, that it hasn't bit the dust, and that it still continues to grow! I want to give a big thanks to all who linked up last week for the 1 year party, and apologize for not reading and commenting. I promise I will, someday...
Don't forget you have a plethora of link ups to confess your face off to every Wednesday. #Hashtaghumpday with
Lauren
and I of course,
Alanna for confessions
as well as
Plucky
in Love, and then
Kathy
and
Nadine
! So much humpity-hump-day love!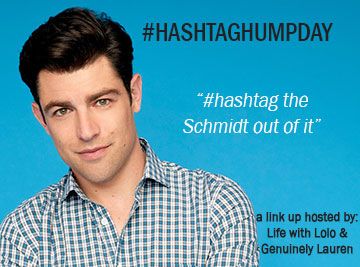 First a little business. Here's the scoop:
Each Wednesday create a post about what's going on in your life and #hashtag each item or story. See an example HERE. Be as creative as you want!
Grab the button and include it in your post

Link up so we can all #creep on you and find out what's new/funny/awesome /shitty in your life.
Comment on at least one other blogger's post from the link up (someone you don't already know!) if there even is anyone who links up…

Share on all your social sites with #hashtaghumpday
Have fun! #hashtagtheshitoutofeverything #whocaresifitsarealhashtag
Kapeesh?
Ok, let's get into my loco-ness shall we?
Yesterday I went ahead and vented about
Engagement Season
. It stinks and I feel stuck and I hate it all getting rubbed (even though not meant to be) in my face. Status update #stillnoring
If jealous crazy wasn't enough I also have stressed crazy going on. It's like
two weeks
till Christmas! Ok a little more than that, but that's not a lot. And I need to get most of my gifts still. Ok maybe just a few, but they are the tough ones. Oh AND I have no money to buy gifts and every time I come home with one the BF makes a comment about me somehow having money for gifts when I have no money #IKNOWIMPOORSHUTUP #debtforchristmas #luckyme
On top of that is our Ugly Sweater Party this weekend that I have done zero to prepare for. The to-do list is 90 things long but instead last night I wrapped presents #toooverwhelmingtoevenstart
Plus Christmas is supposed to be this happy, merry, fun time for couples to enjoy together. For example picking out a Christmas tree - one of my favorite traditions! Instead, insert an afternoon of bickering, then silence, then getting overruled and ending up with a fake tree #ihadtohidethetears #itsnotreallychristmaswithoutarealtree
What made it even worse is that I agreed with every single reason to get a fake one. Easy to put up. Easy to take down. Pre-lit. No needles. No crawling under the tree to water it. It makes sense. And I still hate it #stuckinmyways
It really is a pretty tree though. You can even switch between colored LEDs and white LEDs. The tiny bit of Christmas joy left in me after the whole debacle loves that #prettylightsmakemehappy
Note above the obvious mood swings brought upon by just a tree #coocooforcocoapuffs
Of course I have to admit I wouldn't be so close to crazy town if it wasn't for work. We had an amazing trip to convention in
Las Vegas
, and then we come back to the real world again this week. Already this week has been full of drama, shit, and feeling insignificant again #readyforittogetbetter #sendbooze
This sounds like a lot of complaining, and maybe it is. Really I'm not unhappy - I'm just really, really close to losing it #prayicankeepittogether
What are you crazy over this week friends? Link up and join me in loony toons here!