It's the last #hashtaghumpday of 2015! I'm still in disbelief. That means there will now be #hashtaghumpdays dated 2014, 2015 AND 2016! I mean it's like an institution, or at least around here it is!
Before we get into it, let me remind you you have a plethora of link ups to confess your face off to every Wednesday. #Hashtaghumpday with
Lauren
and I of course,
Alanna for confessions
as well as
Plucky
in Love, and then
Kathy
and
Nadine
! So much humpity-hump-day love!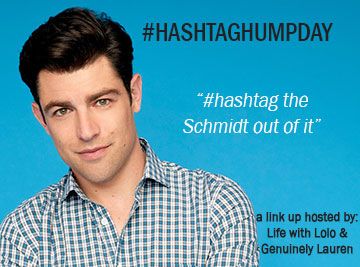 First a little business. Here's the scoop:
Each Wednesday create a post about what's going on in your life and #hashtag each item or story. See an example HERE. Be as creative as you want!
Grab the button and include it in your post

Link up so we can all #creep on you and find out what's new/funny/awesome /shitty in your life.
Comment on at least one other blogger's post from the link up (someone you don't already know!) if there even is anyone who links up…

Share on all your social sites with #hashtaghumpday
Have fun! #hashtagtheshitoutofeverything #whocaresifitsarealhashtag
Kapeesh?
So necessity has morphed today's hashtag/confession session into something a little different, because I also need to delve into the major undertaking
Amy
and I are planning on starting next Monday -
Whole30
. I was supposed to do that yesterday, but a Christmas recap won out #becausechristmas
Here's the thing, I'm sure to a lot of you Whole30, or any other drastic lifestyle change, sounds silly, non-sustainable, and not a good choice. Here's the thing, it's
my choice
and I know it will do my body good. Plus, it really, really has some interesting points and goals so I'm going to share those with you today both as they relate to the program
and to me
#solistenup
More than anything, in my opinion, Whole30 is an elimination diet to find out what foods your body isn't actually happy with consuming. You may not even realize the things you've eaten all your life have side effects on your body, because you've lived with that effect constantly. Crazy to think about right? Thus Whole30 cuts out major diet components that
could be
causing inflammation, allergic reactions, poor digestion and interference with your gut bacteria #basicallythegoodstuffgoes
Here's the cuts #yeahiknowitsoundscrazy
After the program you slowly introduce those foods back into your diet and see what your reaction is. The 30 days allow for them to clear out of your system so you can feel the full effects, if there are any, afterwards. Cool right? #SAYYES
So here's why I think this is the right thing for me to do:
Skin issues.
Seriously I'm a walking dermatologist's nightmare. I shared with you one issue I've been having at the end of
this post
, and let me tell you friends, it's the worst. Flaky, itchy, ugly and right at my hair line. The sad part? I think it might be related to diet #crossyourfingersthisisthefix #andthatitsnotgluten
Honestly if that alone clears up, this is totally worth it #teamnomoreflakes
Second, and the one that is totally cliche, is
weight loss.
I know it shouldn't be the ultimate goal, that my health should be it, but I can't help but want this to help the waistline too. Odds are it will. In my first
failed attempt
at Whole30 I still lost 6 lbs and that was half assing it! This time, hard core, I'm hoping to really change my body make up a bit #andfitbackinmypants
Mood help
. I'm a bit of a wreck these days due to a lot of stuff at work and a little bit of personal life. You know what can make you feel so much better all the time? Good, wholesome food. No, really. The Whole30 program calls it Tigers Blood and you just feel renewed, positive, and so much happier. That's a hell of a good reason in my mind #happyfoods #happylife
And, to assist with my favorite thing (other than
my dog
)
sleep
. Yes, a healthy diet helps you sleep loads better! Plus I hope to add some more fitness into my life as well, which usually helps me snooze too #zzzzzzzzzzz
Are you trying something this year that will help you have better skin, lose weight, make you happier and sleep better? Do you want to? You can always join us for Whole30
-OR-
just pick another bad habit to breakup with during our 30 day challenge that will make your life better #shamelessplug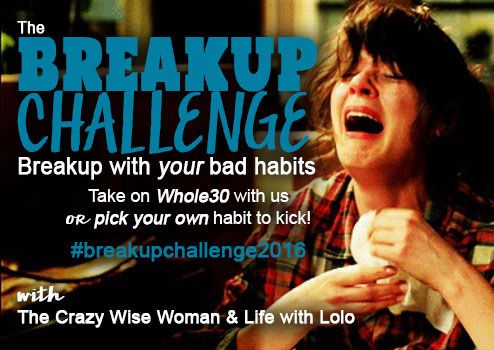 Now it's time for prep, prep, and more prep.
Amy had a great post
about how she plans to tackle her second round. I spent a good portion of last night reading my
Whole30 Book
and then lying awake all night thinking about it - how hard it will be, how great it will be, and everything in between #letsmakeithappen
What are you hashtagging this week friends? What do you think of Whole30? Are you planning on giving up any bad habits with us?