Happy New Year! And happy Day 2 of the Breakup Challenge and Whole30 for Amy @ Crazy Wise Woman and me! Yippee! Only 28 more days to go...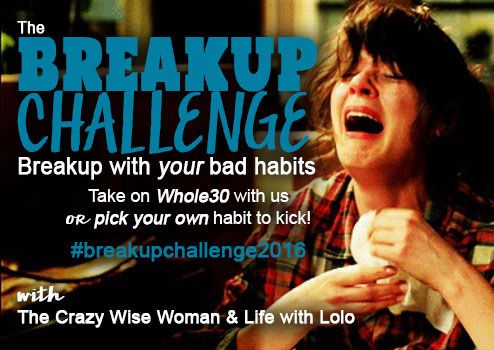 Are you joining us for the Breakup Challenge? Did you pick one or more bad habits to break up with? Or are you going big and taking on Whole30? Be sure to grab the button and link up to kick off the challenge this week!
Even if you are just trying to eat healthier, the key to changing up your habits is planning and preparation. Fail to prepare, prepare to fail. So don't let that be an option!
While I didn't get everything done I wanted to do, I still am prepared for an entire week's worth of food - all clean, Whole30 approved food. I always plan for dinners and make up breakfasts and lunches with leftovers and other items as I go. I did prep two breakfasts and one lunch for this week though!
Here is how I prepared for Whole30 success:
Step one is planning. Plan your major meals and make note of some other items you'll need for lunches and breakfasts. I sat down and planned out tentatively what I wanted this week, and then I did the grocery list. This helps you only buy what you need.
Here's the dinner menu this week:
Monday - Paleo Jalepeno Popper Chili in the Crock Pot (I use beef at turkey)
Tuesday - Chicken Apple Sausage, Pepper & Onion Stir Fry
Wednesday - Stuffed Bell Peppers
Thursday - Turkey Burgers in Lettuce Wrap with Oven Potatoes
Friday - Grilled Chicken & Veggies
Saturday - Leftovers/Throw-together
Sunday - Paleo Pizza Pie
Review your grocery list and fill in where needed. Even if you buy all the ingredients for your dinners you will still need fillers for breakfasts, lunches and maybe snacks, plus some staples for your pantry. Whole30 has a downloadable grocery list as a resource for you - by all means you don't need this all, but I like to highlight the things I do want!
Make room and clear out non-Whole30 foods. Deep clean your kitchen. Take all temptations out of your kitchen and take stock of what you may already have (meats, spices, etc.) I should have taken pictures of this - it was like my kitchen exploded. But having a de-cluttered, organized kitchen makes this process so much easier for me.
Shop! It might take more than one store to find all you need. Honestly I don't buy "organic" much of anything, mostly because of the cost. I do hit health food stores for items like coconut aminos, some organic/paleo sauces, and a few other items. Plus I hit Costco for big batches of veggies like spring lettuce mix, bell peppers and other things I know I can use before it goes bad. Here's what I ended up getting.
Prepare what you can. The more you have ready to go, the easier it will be and you won't be reaching for that cheat just because it's easy.
Here's what I did to prepare:
Made Whole30 Mayo
Made Whole30 Ranch (with the mayo)
Packaged Ranch in Dip/Dressing Size Packs
Hard Boiled Eggs for Snacks and Breakfasts
Cooked 2 Chicken Breasts in the Crockpot and Shredded It
Chopped Everything to go in Monday's Crockpot Dinner
Packed 2 "Breakfast Packs" to be topped with eggs (lettuce mix, 1/4 sweet potato, berries)
Packed 1 "Lunch Pack" to be topped with chicken and avocado (lettuce mix, pear, almonds, ranch dressing and La Croix)


What I still want/need to do:
Chop Additional Veggies for Snacks/To Cook for Dinners
Make Clarified Butter
Make/Freeze Burger or Sausage Patties
Have a backup plan. Here's the thing, with a major change in your diet you are going to have moments when you really want something. Have a back up option. I don't like my coffee black, so I get caffeinated tea instead (I bought this and I'm OBSESSED). Sometimes I need something sweet, so I make sure to have bananas or berries on hand that I can top with some Sunbutter or coconut milk for "dessert." Having those options helps me better battle those cravings.
Meal 1, Day 1!!
Give yourself the pep talk and just do it! I took all my measurements and pre-photos on Sunday before we started. That was nearly pep-talk enough, yowza! Knowing that I want to make changes to my body and health are motivation for me, and that is what I focus on. I need to focus on how good I am going to feel, and how this is going to be a positive and hopefully life changing experience for me. Time to buck up and make it happen!
Let's start 2016 of with a bang shall we?! For those of you who stuck through that whole post here's a birthday Urban Decay Naked Palette giveaway from the lovely Brittany! Happy birthday Brittany! Get entered and don't forget to link up for the Breakup Challenge!
a Rafflecopter giveaway
See you tomorrow for #hashtaghumpday lovers!
TTFN,