Happy Wednesday and Day 31! I'm officially a Whole30 Alum. #baller #imightbeeatingchocolaterightnowbecauseican
Before we get into it, let me remind you you have a plethora of link ups to confess your face off to every Wednesday. #Hashtaghumpday with my partner in crime
Lauren
and I of course,
Alanna for confessions
as well as
Plucky
in Love, and then
Kathy
and
Nadine
! So much humpity-hump-day love!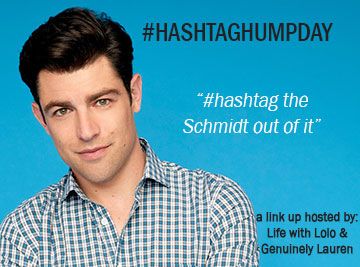 First a little business. Here's the scoop:
Each Wednesday create a post about what's going on in your life and #hashtag each item or story. See an example HERE. Be as creative as you want!
Grab the button and include it in your post

Link up so we can all #creep on you and find out what's new/funny/awesome /shitty in your life.
Comment on at least one other blogger's post from the link up (someone you don't already know!) if there even is anyone who links up…

Share on all your social sites with #hashtaghumpday
Have fun! #hashtagtheshitoutofeverything #whocaresifitsarealhashtag
Kapeesh?
Ok so I may or may not have watched the new Fixer Upper instead of writing this post #HGTVaddict #shortandsweettocome #oops
I finally "announced" the new job this week and it feels sort of weird. Like I'm embarrassed. That's not the right word but it just doesn't feel real or normal. Not in a bad way, just different. I'm just not used to it yet #changeisawkward #butitsgoingtobegood
I've strategically planned two days of "funemployment" for some me time. I already have a massage, hair appointment, mani-pedi appointment and a grooming appointment for Gunner scheduled. Because why not? #funemployment #medayz #treatyoself
I feel superbly guilty about not taking Gunner to the park or dog park at all this week. I attempted the dog park on the
pirate leg
and I almost died when he decided he needed to go after another dog while on his leash, pulling over the one-legged freak-self I am at the moment. I'm scared to go back, but I feel sooooo terrible for him. It's like I'm depriving him of his favorite thing #terribledogmom #whatshouldido #damnyoupirateleg
I got a little over aggressive with searing my steaks last night and turned my house into a smoke lodge. Good thing I never installed those smoke detectors eh? #smokyashell #coughcough #steakwasgoodthough
I cheated just a tad and weighed myself last night for my Whole30 results. Took measurements this morning. I'm excited to share #majortease #butthatsallyouget
Seriously this week is going so FREAKING slow because I'm counting down the days left at my old job. I'm so ready for the weekend! #letsgetamoveon #waitingistheworst
And that's all I have this week. Confess and link up!