Once again I managed to not blog AT ALL or comment whatsoever for a full week. I feel extremely guilty about it, but I don't regret it. I'm still adjusting to this new work life. And yes, I'm very aware I've used that excuse for 5 ish weeks now. It's pathetic. But anyways....
Before we get into it, let me remind you you have a plethora of link ups to confess your face off to every Wednesday. #Hashtaghumpday with my partner in crime
Lauren
and I of course,
Alanna for confessions
as well as
Plucky
in Love, and then
Kathy
and
Nadine
! So much humpity-hump-day love!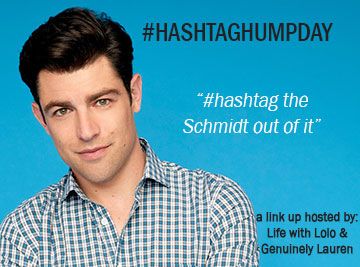 First a little business. Here's the scoop:
Each Wednesday create a post about what's going on in your life and #hashtag each item or story. See an example HERE. Be as creative as you want!
Grab the button and include it in your post

Link up so we can all #creep on you and find out what's new/funny/awesome /shitty in your life.
Comment on at least one other blogger's post from the link up (someone you don't already know!) if there even is anyone who links up…

Share on all your social sites with #hashtaghumpday
Have fun! #hashtagtheshitoutofeverything #whocaresifitsarealhashtag
Kapeesh?
Instead of sitting down to write this post, I designed and formatted the entire newsletter for my sorority (PR Adviser duties) and it was quite enjoyable #helpingandfun #adviseringsohard
Speaking of the sorority, I'm heading up to Moscow in April to celebrate my chapter's 100th birthday! It's a huge milestone to be around that long at a university and I can't wait to celebrate with my sisters. The downside is I had to take a day unpaid off #becauseimsonew #noPTOyet
As far as work, let me see if I can describe how it feels at the moment. Someone filled up a tank full of projects all due by the end of March, all that are of huge importance, and then used my newness to bind my arms and legs and threw me in the tank to drown. Yep, that's how it feels #extrememelyoverwhelmed #thusnoblogging
Despite the fact that I'm quite literally over my head right now, I don't mean to complain. I still think my job is the coolest job ever! Other than this damn time change ordeal, I've actually been excited to get up and go to work every day, which is huge #lovewhatyoudo
And since my brain is completely fried after 3 hours of laying out the newsletter, I'm going to leave it at that. And with it, I'll toss a penny in the well with the wish I can finally, somehow, manage to get back to this space more often!
TTFN,