Oh hey there. The usual stranger checking in for my weekly confessions.
Before we get into it, let me remind you you have a plethora of link ups to confess your face off to every Wednesday. #Hashtaghumpday with my partner in crime
Lauren
and I of course,
Alanna for confessions
as well as
Plucky
in Love, and then
Kathy
and
Nadine
! So much humpity-hump-day love!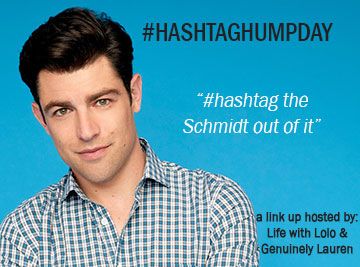 First a little business. Here's the scoop:
Each Wednesday create a post about what's going on in your life and #hashtag each item or story. See an example HERE. Be as creative as you want!
Grab the button and include it in your post

Link up so we can all #creep on you and find out what's new/funny/awesome /shitty in your life.
Comment on at least one other blogger's post from the link up (someone you don't already know!) if there even is anyone who links up…

Share on all your social sites with #hashtaghumpday
Have fun! #hashtagtheshitoutofeverything #whocaresifitsarealhashtag
Kapeesh?
Ok on to confessions...
I'm on the struggle bus hard when it comes to eating. I told myself, and a friend (sorry
Kayla
!), that I was going to do Whole30 this month and I've kept pushing it back and pushing it back. I finally started on Monday strong, including meal prep Sunday, only to have it come crashing down last night when stress, hormones and frustration led to a Cafe Rio run instead of me cooking dinner #itwasworthit #startingoverdayonetomorrow #damnyoufood
In other news I finally connected some dots on an issue I was having. Remember when I shared with you all about how I'm
washing my hair less
? And I admitted that it was causing scalp problems for me? Well then I saw an article about this
Facebook post
and it hit me. Maybe it's not the washing less, maybe it's my beloved Batiste causing the problem. It's been one week since I stopped using it and it's 80% better. So I need a new dry shampoo #andseriouslywtf #dangitbatiste
Along with cutting out Batiste I've just been rocking the greaseball look at work #noshameinmygame
This weekend I told myself I'd do yard work. Judging by the jungle of weeds in both my front and back yard it didn't happen. I just hate pulling weeds. Any tips for motivating myself on that one? Maybe if it was a different kind of weed #happy420 #becauesnothingelseworks #andmyyardlookslikeshit
We got Gunner 3 years ago yesterday. Seeing it pop up in my feed made me swell with happiness. I can't believe a spur of the moment decision ended up being my best friend. Happy bring-home-iversary Gunner! #obsessivedogmom #gunnertheredgolden
I started doing yoga class two weeks ago. It was my first attempt ever. I was already an inflexible person, but add in the 6 weeks I spent on crutches earlier this year and I'm whole new level of tight. Upper body strength is lacking too, I can barely hold downward dog for more than 30 seconds. It's a work in progress, that's for sure. I just wish I could share video of it all for you so you could see me shaking uncontrollably, with zero balance, huffing and puffing while doing this thing that's supposed to be "relaxing" #notsomuch #itsfreakinghard #crossyourfingersformeitgetsbetter
Lastly I just have to Fangirl SQUEEEEEEL that Game of Thrones airs this weekend!!! Eeek! Who else is excited? #winteriscoming #johnsnowis?
Hope all is well my friends - I need to get caught up with you! Link up so I can follow along!