Today I'm getting really real here. I'm taking it to the next level with some body/personal confessions. So if you get grossed out or embarrassed about hearing some personal details, go ahead and exit out of this post and come back next week. Because shit's about to get real.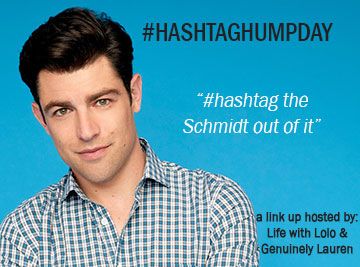 First a little business. Here's the scoop:
Each Wednesday create a post about what's going on in your life and #hashtag each item or story. See an example HERE. Be as creative as you want!
Grab the button and include it in your post

Link up so we can all #creep on you and find out what's new/funny/awesome /shitty in your life.
Comment on at least one other blogger's post from the link up (someone you don't already know!) if there even is anyone who links up…

Share on all your social sites with #hashtaghumpday
Have fun! #hashtagtheshitoutofeverything #whocaresifitsarealhashtag
Kapeesh?
Ok good. Now go say hi to my lovely co-host
Lauren
before we get into this... ok your back? Great, let's go -
Yesterday I went to the dermatologist for the first time in a very long time. Seeing a new doctor is always a
joy
pain for me because I have to recap all my health history, which is just barrel of fun. I have a long history of weird skin issues so I got to revisit that and more #walkingskincondition #letsnottalkaboutit #youaren'tmyfirstdoctor
Have you ever had a full skin assessment at the dermatologist? It's something they recommend if you are fair skinned or your family has any history of skin cancer or even malignant moles. Since I have a few questionable dark spots I thought it might be a good idea. I wasn't really sure what to expect, but I was naked and there were photographs taken #hopetheydontgetleaked #nudies #Ifeelviolated
A team of two people go over your
entire
body and measure every single mole, then put a sticker label by that mole and photograph it. Plus the doctor wanted a couple "full" shots of my front and back so we could keep track on new ones #itsnotapartytillyournaked #withstickersalloveryourbody
The good news is none of my gazillion moles are too threatening and she only wants to remove one of them as a precautionary measure. The bad news is that a mole check wasn't the only reason I was there #justwaittheresmore
I've also had a lot of trouble with ingrown hairs down below... which I have
confessed before
... and it's gotten particularly bad. So I thought she better take a look and give me some feedback. What I was NOT prepared for were two different cultures that were taken. One of one of the sores - not too bad - the other? UP MY NOSE. She stuck a wire thing longer than a pencil up both my nostrils #sherapedmynose #itwasaweful
They are testing for a Staff infection #holyshityuck. The worst part is if I do have it they also have to treat the BF just in case #hesgonnalovethat.
Ok and let's finish this with another, non doctor related confession...
Do you ever have a sudden on-come of needing
to go.
The kind where you need a bathroom RIGHT NOW or it's gonna get messy? Well Sunday that happened to me while walking Gunner - at the point that is the absolute farthest from our house we could be. It was the worst, most horrible feeling in the whole world and I contemplated going into random businesses or homes to ask if I could use the restroom. The good news is I clenched and made it home ok, even if I did have to run the last two blocks #thatwasacloseone #pleaseneverletthathappenagain #shithappens
Are you thoroughly grossed out by me now? Am I losing followers? Eh, this is the real me people, if you don't like it I'm not going to apologize!
Hope you had a green beer-full Saint Patty's Day!
TTFN,