Happy humpday friends.

I'm back and about 25% healthy this week so, just enough to get a post up it seems #bronchitisyousuck
Go over and say hi to my gal pal
Lauren
, she's the best co-host and bloggy friend around. So you should probably go make friends--and check out her new
puppy
while you are there.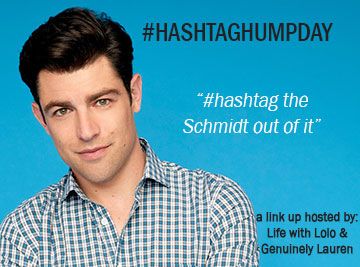 First a little business. Here's the scoop:
Each Wednesday create a post about what's going on in your life and #hashtag each item or story. See an example HERE. Be as creative as you want!
Grab the button and include it in your post

Link up so we can all #creep on you and find out what's new/funny/awesome /shitty in your life.
Comment on at least one other blogger's post from the link up (someone you don't already know!) if there even is anyone who links up…

Share on all your social sites with #hashtaghumpday
Have fun! #hashtagtheshitoutofeverything #whocaresifitsarealhashtag
Kapeesh?
So it hasn't been a secret around here that I've been sick #imkindofamajorwhiner. The official diagnosis is bronchitis, which was in no way shocking to me. I've already completed a round of antibiotics and also have codeine cough syrup, an inhaler and mucinex all up in my mix, yet I still sound like I smoke 18 packs a day and that I may at any moment cough up an actual lung #sexy. I'm trying to ween myself off of the drugs but... like I said I'm #whiny and #ineedallthedrugs.
Here's the really sad part though. Over the weekend, Gunner got a cough too. Poor guy. He has fits of them and he sounds like he's hacking up a hair ball. Since I'm a crazy dog mom I immediately took him to the vet. I was a little concerned because I just recently got him vaccinated for kennel cough, so what the heck could this be? Well it's kennel cough. Apparently it's like human flu, there's lots of different strains and they can only vaccinate with one. The vet said it's basically doggy bronchitis. Aren't we just a pathetic pair #bronchitisbuddies #poorpup #coughingfordays #extrasnuggly #bestcuddlerever
No - I didn't give it to him. I asked #notspeciestransferrable
The funny part is he has codeine cough suppresant for night time too. Just like his momma #drugbuddiestoo
He was such a good boy at the vet's office
Since I fully skipped the weekend wrap-up #bigsurprise, I have to share a little here too.
This weekend I planted all my pots and planters as well as transferred things from my
baskets
to the yard #plantingboss #alltheflowers. Shameless plug - here's my
tips for planting pots
!!!
We also went to a friend's wedding and they had a photo booth #needisaymore #photostripsaremyfave #goofyfacesfordays
Let's trudge on to the weekend my friends - thank goodness I have a short week! #bejealous
TTFN,