Is anyone else in disbelief that it's the last week of October? And that Thanksgiving is like tomorrow and then Christmas two days later? At least that's how this time of year always feels to me.
I can't believe it. I almost want to boycott Halloween to keep it from coming. Almost...
The jury is still out on whether or not I'll be celebrating. I've made a tail so there's slight progress.
Before we get started go say hi to my co-host in crime Lauren! Then don't forget to visit Alanna and link up your confessions there too! Knocking out all the confessions and link-ups in one day is like scoring all the Halloween candy #amiright?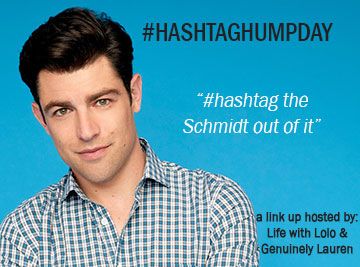 First a little business. Here's the scoop:
Each Wednesday create a post about what's going on in your life and #hashtag each item or story. See an example HERE. Be as creative as you want!
Grab the button and include it in your post

Link up so we can all #creep on you and find out what's new/funny/awesome /shitty in your life.
Comment on at least one other blogger's post from the link up (someone you don't already know!) if there even is anyone who links up…

Share on all your social sites with #hashtaghumpday
Have fun! #hashtagtheshitoutofeverything #whocaresifitsarealhashtag
Kapeesh?
Since it's the week of all Hallow's Eve I thought we'd do some Halloween inspired confessions?
I once tried to rip off Ron Burgandy's mustache at a bar on Halloween. It was his real mustache. #neverlivingthatonedown #itlookedsuperfake
Halloween has never been the same for me since I woke up in hell the day after celebrating one year in college #itwasbrutal #goreadthelinkandyoullunderstand
When I was a kid I never ate all my Halloween candy #ilikesaltynotsweet #italwaysgotthrownaway
I've been a black cat more times than I can count #becauseitseasy #andsleasy
My favorite costume (as a grown up that is) was when I was a corona bottle #becausebeer
I actually like cleaning out pumpkins to carve them #alltheguts #slimyisgood #imdisgusting
As a perfectionist actually carving my pumpkin gives me anxiety though #itneedstobeperfect
For a group costume one year my sorority sisters and I went as penguins and I bought actual scuba flippers to wear out #thatwasawasteofmoney #didntthinkthatonethrough
In college a friend of mine and I carved really inappropriate pumpkins (one of male part and the other with an open mouth throwing/spitting up) and then put them on a neighbors porch strategically arranged...#weknewthemsoitsok #thepumpkinwouldntswallow #bjpumpkinforthewin
The best part of Halloween, in my opinion, is dressing up my dog (and maybe the cat) #becauseitsthebest #andhescuterdressedupthanme #tacodog #pinatacat
In case you were wondering about that tail I made - I'm being a black cat again #originaliknow
Tell me, what are you being for Halloween? Any past Halloween confessions?