It's been a week already friends. And not in a bad way, but in the kind of way that you don't really sleep a wink Monday night and it makes you really stabby.
I hate that.
But alas, we've made it to humpday so let's do the darn thing! Make sure you say hi to my lovely co-host Lauren. And why not link up with Alanna for confessions too? Two birds. One stone. You know I'm all about that!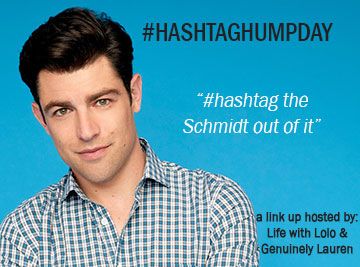 First a little business. Here's the scoop:
Each Wednesday create a post about what's going on in your life and #hashtag each item or story. See an example HERE. Be as creative as you want!
Grab the button and include it in your post

Link up so we can all #creep on you and find out what's new/funny/awesome /shitty in your life.
Comment on at least one other blogger's post from the link up (someone you don't already know!) if there even is anyone who links up…

Share on all your social sites with #hashtaghumpday
Have fun! #hashtagtheshitoutofeverything #whocaresifitsarealhashtag
Kapeesh?
First let's start by a follow up on
last week's injury
. Good news, I'm back in real pants and no bandages. It's healing up quite nicely actually. But you know how scabs tend to get itchy when they are healing? Well I'll let you decipher that one #itchyass #itsaproblem
Like I said before, I barely slept a wink on Monday. I know I talk a lot of shit about
Ted
, because he's an
asshole
, but the reason I was laying awake Monday night was because he was missing. Well, missing in that he hadn't come home yet that day from his usual jaunt around the neighborhood. So I guess what I'm trying to say is I actually like the little bastard, heck maybe even love. I was having these horrible visions of him flattened on a road somewhere #roadkillstatus.
Of course a little after midnight he graced us with his presence meowing to let him in our bedroom sliding door #stillanasshole #ishouldhaveknown #selfishbastard
I still didn't sleep after that, and once I did finally fall asleep the dog of course needed to go out #damnyouanimals!
Then finally around the time I needed to get up I fell asleep. Why is that always the case? I decided to take a few hours of sick time to sleep a little extra. Instead I laid there awake till 8:30 with both the cat and dog spread out on top of me. #cutebutdickish #canyoujustletmesleepplease
I'm one of those people who does not do well with less than 8 hours, Slice that down to about 2 in one night and I'm affected the entire week. So I'm stabby. Real stabby. #dontmesswithme #restingbitchfaceweek
Can someone bring me an IV of coffee and some motivation? Great thanks #illtakeanything.
What's going on with you this week? Link up with us below and
Alanna!