One of my very early, and favorite, humpday confession posts (pre #hashtaghumpday even) was Excitement Themed. Part of me kind of wants to go back and hashtag it, but I'll refrain myself, because guess what I'm doing today?
Another excitement post #yourwelcome #excitement
Before we get into it, let me remind you you have a plethora of link ups to confess your face off to every Wednesday. #Hashtaghumpday with Lauren and I of course, Alanna for confessions as well as Plucky in Love, and then Kathy and Nadine! So much humpity-hump-day love!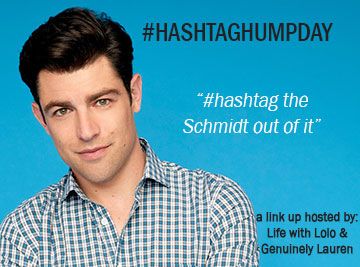 First a little business. Here's the scoop:
Each Wednesday create a post about what's going on in your life and #hashtag each item or story. See an example HERE. Be as creative as you want!
Grab the button and include it in your post

Link up so we can all #creep on you and find out what's new/funny/awesome /shitty in your life.
Comment on at least one other blogger's post from the link up (someone you don't already know!) if there even is anyone who links up…

Share on all your social sites with #hashtaghumpday
Have fun! #hashtagtheshitoutofeverything #whocaresifitsarealhashtag
Kapeesh?
If you've been following along recently you'd know it's been rough month or two, so what I need more than ever are things to be excited about.
Well tis the season! Let's get started with this week and keep it rolling #itsgonnabegood
Tonight I'm having birthday dinner with one of my oldest friends #bff #sincebirthpractically
Then tomorrow night is co-ed volleyball, which I have every week, but it has become my outlet and only physical activity so I look forward to it each week #spikethemballs #workinit
Then Friday is STAR WARS!!!!!!!!!!!!!!!!!!!!!!!!!!! In IMAX, in 3D. Be jealous, oh so jealous, would you? #fangirlsqueals #OMG #cannotwait
Saturday night we have our second ugly sweater party and a white elephant gift exchange. I pretty much NAILED IT with my gift last year and I'm not sure I (or anyone else) will ever be able to top it #boobiemug #milkduds #winning
Then it's a short work week #whichdoesntreallycount #illpretendtowork
Followed by a special breakfast Christmas Eve morning with my closest childhood friends. It's going to be the first time all of us girls have been together in over 3 years! Plus we have our first baby on the way and I cant't wait to see her baby bump #somuchtimetomakeupfor #friendsforlife #honoraryauntietobe
And of course you guessed what's next, Christmas Eve full of baking and food prep for an evening full of family and love #bestdayoftheyear
and then....

CHRISTMAS!
Tell me friends, what are you excited for these next few weeks? Come on and link up!
PS - serious confession here, I did something scandalous and I'm talking all about it over on Hey Kerri Blog today!