What day is it? No really, I'm on the struggle bus this week what with starting The Breakup Challenge, being back at work and into a New Year (seriously how did that happen) and a few other things floating on my plate it's a little mind boggling.
Still I couldn't miss #HASHTAGHUMPDAY! The first of 2016!
Before we get into it, let me remind you you have a plethora of link ups to confess your face off to every Wednesday. #Hashtaghumpday with
Lauren
and I of course,
Alanna for confessions
as well as
Plucky
in Love, and then
Kathy
and
Nadine
! So much humpity-hump-day love!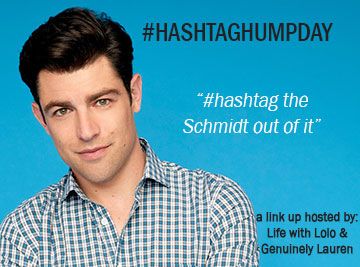 First a little business. Here's the scoop:
Each Wednesday create a post about what's going on in your life and #hashtag each item or story. See an example HERE. Be as creative as you want!
Grab the button and include it in your post

Link up so we can all #creep on you and find out what's new/funny/awesome /shitty in your life.
Comment on at least one other blogger's post from the link up (someone you don't already know!) if there even is anyone who links up…

Share on all your social sites with #hashtaghumpday
Have fun! #hashtagtheshitoutofeverything #whocaresifitsarealhashtag
Kapeesh?
Ok let's get right on with it.
I haven't taken any Christmas decorations down yet. It's a combination of the fact it's been too cold outside to take down the one string of lights around my door, which I will have to put away with everything else, and the fact I'm just not ready to let go yet. Why does Christmas go by so quickly? #letshavechristmas365 #isitrednecktoleavemylightsuptillfebruary #cantletitgo #notready
So guess what the BF got me for Christmas? Are you thinking amazing, romantic and thoughtful? Good, because you're wrong. I got 3 boxes of Rubbermaid Tupperware. Does that spell love for you? Well let's just say it didn't for me. Before I even opened it he offered to take me shopping after Christmas to get my "real gifts" but still. #hadtoholdtherageinside #smileandtrynottocry
He made good on that promise to take me shopping and I got my first ever pair of Lululemons! Plus a few other items. Here's the kicker though. Guess who had to eat their words/rage and say thank you for the amazing Tupperware gift once she started
meal planning
for Whole30? #thisgirl #bestgifteveractually #youwin #plustheyrestackable
Our dog sleeps in our bed. You aren't surprised I know. Here's the thing, I love it! I love the extra warmth and the weight/touch of having him there. However, he tends to scoot all the way over to the BF's side, and he's pissed about it. Keeps wanting to kick him off or lock him out of the bedroom and it makes me sad #hessleepingwithusendofstory #hesmybaby #itshisbedtoo
So remember that blogger I whined about during my
Engagement Season
post? Well she almost cut her fingers off in a food processor and then
blogged about it
. As much as I hate to give her pageviews you have to read into this new brand of stupid #dumbasarock #whoevenblogsaboutthat #fakestpersonontheplanet (I know I shouldn't bitch about another blogger, but this is an ex IRL friend of mine who I have a personal loathing for. Be better than me and skip this note altogether if you feel so inclined). #totalbitchmoment #thatswhatconfessionsarefor
I went to body pump at the gym on Sunday and now I'm walking like I have a stick up my... #waddlemuch #illjustcrawl #thisiswhyidontworkout #iknowijustneedtogomore
Heading into day 3 of Whole30, feeling exhausted, but I know I need to push through. Follow along with #BreakupChallenge2016!
And that's all I have for you. Happy humpday friends! Link up and confess!
TTFN,