Happy week 2 of the Breakup Challenge!
If you are just joining us, Amy and I decided that 2016 would be the year we broke up with our bad habits, and were asking anyone and everyone in the blog world (or otherwise) to join in! Whether you pick one habit to focus on or kick for the 30 days, or join us for Whole30, we're all in it together!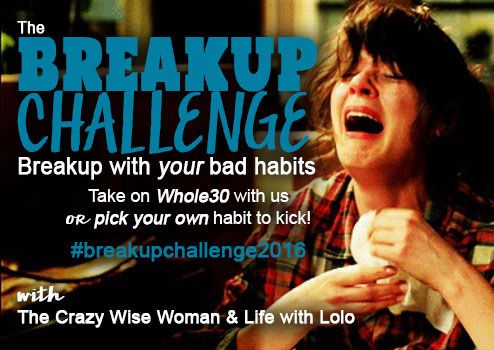 I am happy to report that this week I am starting to feel the positive effects of Whole30. The first week was hard. Not so much in cravings or what to eat, but in that my body was detoxing itself and exhausted without it's usual source of sugary, carb loaded energy. The adjustment takes a while and I knew to expect those effects, but still it didn't make it any less hard.
This week so far the exhaustion is gone at least and I even got a "you look like you've lost some weight" from the BF! Since you can't weigh or measure yourself during Whole30, I'll take that as a good sign!
But enough about how I've been feeling, and onto the goods. I know you want to see the FOOD! Here's the thing, as restrictive as Whole30 sounds, there is still a ton of amazing food you can eat. I never felt like I was missing out this week - other than when I had to go to my favorite tap house for a birthday party and NOT have a beer.
During my last Whole30 I listed out every day's worth of food. This time I'm going to shorten that up and just list it as breakfasts, lunches, dinners and snacks. If there's fewer in that category, it means I had some of those items multiple times.
Breakfasts: fried eggs over 1/4 sweet potato and greens, with berries | leftover sausage and pepper stir fry scrambled with eggs with a veggie (broccoli or carrots) | leftover sausage and pepper stir fry with fried eggs over greens | scrambled eggs with side of pineapple.
Lunches: shredded chicken, mashed with half an avocado over greens with Whole30 ranch and a side of fruit and La Croix | leftover turkey burger topped with grilled pineapple, avocado and pickles with baby carrots and ranch | leftover Paleo jalapeno popper chili and side salad with balsamic.
Dinners: Paleo jalapeno popper chili with avocado and cilantro | chicken apple sausages stirfried with bell peppers and onions over salad | avocado turkey burger topped with grilled pineapple, pickles, onion and fried egg over lettuce with sweet potato and salad | stuffed bell peppers with homemade guacamole and side salad | Cafe Rio (to go) grilled chicken salad, no shell, beans, rice but with double meat and pico and homemade dressing | leftover pepper stuffing meat over salad | Paleo pizza pie and side salad.
Snacks: hard boiled eggs, hot tea, fresh fruit, half turkey burger, Nakd bars (some are compliant)
Going into week 2 I know it's key to plan ahead. As a treat to myself for doing Whole30 I purchased this meal planning pad that goes on the fridge. It's much cuter and more organized than the notebook I was using. I planned all our dinners and went grocery shopping, hard boiled some eggs and cooked a couple sweet potatoes for breakfast to get ready for the week.
On the dinner menu this week:
Monday - Salsa Chicken in the Crockpot (taco salads)
Tuesday - Paleo Sloppy Joes over sweet potatoes
Wednesday - Beef and Broccoli
Thursday - Paleo Zuppa Toscana in the Crockpot
Friday - Leftovers
Saturday - the BF's Work Party (hopefully I survive)
Sunday - parents' house/TBD
I'm heading into this week rejuvenated and ready to roll. I look forward to how this week will go with the challenge, as well as some major life things that I can't talk about just yet. Overall I finally feel I'm on my way to thriving this year. And it feels great!
Are you taking part in the Breakup Challenge? Don't forget to link up with Amy @ The Crazy Wise Woman or me!