DAY 23!!!! Eeeee! We are so close! Are you kicking butt in the Breakup Challenge? Only one full week to go!
If you are just tuning in,
Amy
and I decided that 2016 would be the year we broke up with our bad habits, and were asking anyone and everyone in the blog world (or otherwise) to join in! Whether you pick one habit to focus on or kick for the 30 days, or join us for
Whole30
, we're all in it together!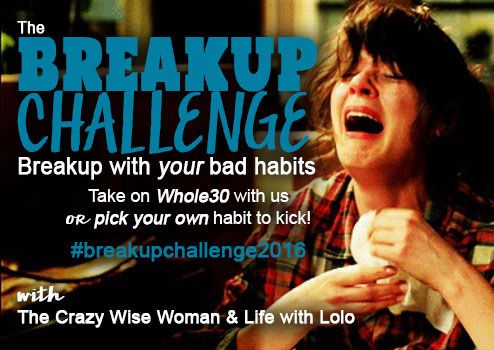 It's no secret around these parts that it's been a rough couple of weeks for me. More than anything when life hands me difficulties, the place I cave first is in my diet. It switches quickly to carryout pizza and fast food without a second thought.
But this time was different. This time I was doing Whole30 and I was sticking too it, no matter how pathetic and depressed I felt.
It was made possible mostly by the fact I had lots of leftovers. Prior to both issues (boot and the flu) I had a major food prep day and it was my saving grace. Had there not been easily accessible food in the house I would have cracked, I know it. It just goes to show how important it is to plan ahead! Who knows what obstacles may be thrown your way each week!
I am so proud of myself for sticking with it. There I said it. I am stinking proud. When you are at the verge of a breakdown and keep yourself from eating pizza, that's HUGE and I'm freaking pumped.
Because that is what Whole30 is supposed to be for me. The battle with my food habits and downfalls, and I took on that battle the last two weeks and won! Hell yes!
Do I still sort of want pizza, yes. Duh. I still can't really handle the grocery store solo with the boot yet so that's a struggle. But we're so dang close it's not worth giving in now!
I feel like this post has a lot of exclamation marks. Did you notice? I think it's because that Tigers Blood is finally running through my veins, even with the chesty cough leftover from the flu. Even with the swollen purple foot, I just feel unstoppable, and I love it!
With all that has been happening the past week I still didn't do a very good job of keeping track of what I ate or taking photos, but here is a summary for you:
Breakfasts: fried eggs with leftover potatoes| leftover sausage and pepper stir fry scrambled with eggs | leftover sausage and pepper stir fry with fried eggs over greens | leftover chili (yes really)|
Lunches: shredded chicken, mashed with half an avocado over greens with Whole30 ranch and a side of fruit and La Croix | leftover Zuppa Toscana soup | leftover Paleo jalapeno popper chili | steak fajitas with guacamole (resisted the chips and salsa!)
Dinners: Paleo jalapeno popper chili with avocado| chicken apple sausages stir fried with bell peppers and onions with salad and potatoes | lettuce wrap tacos | sweet potato "rice' burrito bowl with leftover taco meat, homemade guacamole and side salad | buffalo chicken salad | salad bar from our favorite pizza place, topped with more buffalo chicken | cauliflower fried rice, courtesy of my mamma.
Snacks: hard boiled eggs, hot tea, black coffee, fresh fruit
I find making an abundance of meat - like the sausages, taco meat, and shredded chicken, make it easy to throw together meals all week!
I can't believe the end is almost in sight... to those of you who have been so supportive, THANK YOU!
Let's do this!