Happy Humpday my friends.
This Wednesday for me is bitter sweet, and full of frustration, rage and excitement. Quite a combo right?
Before we get into it, let me remind you you have a plethora of link ups to confess your face off to every Wednesday. #Hashtaghumpday with my partner in crime
Lauren
and I of course,
Alanna for confessions
as well as
Plucky
in Love, and then
Kathy
and
Nadine
! So much humpity-hump-day love!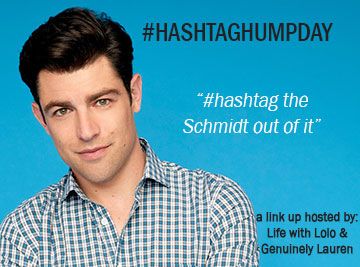 First a little business. Here's the scoop:
Each Wednesday create a post about what's going on in your life and #hashtag each item or story. See an example HERE. Be as creative as you want!
Grab the button and include it in your post

Link up so we can all #creep on you and find out what's new/funny/awesome /shitty in your life.
Comment on at least one other blogger's post from the link up (someone you don't already know!) if there even is anyone who links up…

Share on all your social sites with #hashtaghumpday
Have fun! #hashtagtheshitoutofeverything #whocaresifitsarealhashtag
Kapeesh?
Alright on to the details. Let's talk about the crap before the good stuff ok?
I went to the foot and ankle specialist yesterday. I had been walking in just my boot for a couple days and feeling AWESOME about it. Yay, not more crutches! I thought he would confirm I was on my way to healing and just to take good care of it and wear the boot a while longer. WRONG. I was chastised for walking on it already and told I probably need to be on crutches for 4-6 more WEEKS plus where the boot for walking for 6 MORE WEEKS after that #FML #ialmostcried #butmostlyiwaspissed
Basically my whole life is turned upside down because of this. I was prepared for 2-4 weeks of my life being off, but this is months of recovery. Months of not being able to do the things I normally do, and especially not the things I enjoy doing, like playing volleyball #oktearsarecoming #newsubject
He did prescribe me an
I-walk
. Basically a peg leg. Just call me Captain Lolo #argh #wheresmeeyepatch?
So I get to try that out Thursday. I still haven't been to the grocery store this week. I cried today because I didn't have anyone to take me #seriousbreakdownissues
But enough of the boo-hooing. Sorry about that. I did get wonderful news this week! That exciting thing I've hinted to a few times? It's that I've been interviewing for basically my dream job. And guess what... I got it!!! #ballerstatus
Today is bitter sweet because it is the day I give my two weeks notice. It's probably the hardest thing about any job, or at least a job you once loved so much. I will miss the people mostly, and the
Fair
craziness. I probably will shed some tears. But I won't miss the
drama
or the
drive
#commutebluesareover
I'll fill you in once everything is official. Start date is February 15th and I plan to dive in head first, pirate leg and all!
Ok so no it's your turn. What's going on with you this week? Link up!