Woohoo! My favorite month is here! The month that signals the coming of spring, encourages green beer drinking and hunting Easter eggs, and most importantly contains my birthday!
Let me hear you chant "birthday month, birthday month!"
Before we get into it, let me remind you you have a plethora of link ups to confess your face off to every Wednesday. #Hashtaghumpday with my partner in crime
Lauren
and I of course,
Alanna for confessions
as well as
Plucky
in Love, and then
Kathy
and
Nadine
! So much humpity-hump-day love!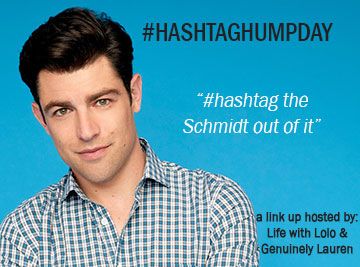 First a little business. Here's the scoop:
Each Wednesday create a post about what's going on in your life and #hashtag each item or story. See an example HERE. Be as creative as you want!
Grab the button and include it in your post

Link up so we can all #creep on you and find out what's new/funny/awesome /shitty in your life.
Comment on at least one other blogger's post from the link up (someone you don't already know!) if there even is anyone who links up…

Share on all your social sites with #hashtaghumpday
Have fun! #hashtagtheshitoutofeverything #whocaresifitsarealhashtag
Kapeesh?
Ok so HUGE news update, I'm off the
peg
! I can walk again!!!!! It's really made life immeasurably better and I'm so glad to be a fully functioning human being again. The bad part? Now I want it all. Working out, running, and playing volleyball, ALL OF IT. But I can't yet because I still need to do physical therapy and all that crap first. It's so hard though #thatswhatshesaid #imightdoitanyway #somuchmoreroomforactivities
Since I started my new job with the peg, everyone knows me as the "peg leg girl." No, not by Laura, but by the peg. It's sort of humiliating but awesome at the same time. I made an impression #piratelegsarecool #nowimnotcoolanymoreandnooneknowsmyrealname
I got way too excited about the fact that I could now wear two shoes. Milestones people, I'm not even kidding. You try only wearing one shoe for 6 weeks and then not be excited about getting to wear two! #likeomgshoes #andwherethehellareallmyleftfootshoes?
The sad part? The new brace I have to wear only fits inside a few pairs. It's basically boots, tennis shoes or slippers. No fun flats or sandals as we head into spring #damnyouanklebrace #screwingwithmyfashionstatement
To change subjects a bit, our dishwasher killed over a little over two weeks ago. We bought a new one the Friday after it broke, and had to wait a whole week and a day for installation because someone had to be at the house (so a Saturday). They show up Saturday and forgot the installation kit. FORGOT IT!!! So they couldn't install it after it had already been almost two weeks of no dishwasher. Then, they were supposed to come first thing Monday since it was THEM that screwed up. Guess who was a no show all Monday? The damn installers! They were then supposed to come Tuesday and instead, since the first number they called didn't answer they just "decided" to wait till Wednesday. IF MY DISHWASHER DOESN'T GET INSTALLED TODAY I'M GOING TO MURDER SOMEONE #IHATEHANDWASHING #ifyouseeadeadsearsguyinmyhousedontjudge
Oh and dishwashers aren't cheap either #doubletherageinside
But hey it's birthday month right?! Happy thoughts from here on out!
Link up and confess why don't ya?
TTFN,